Super League: Kieron Cunningham laughs at Saints critics as they go top of the table
St Helens assistant coach Keiron Cunningham laughed at recent talk of a crisis after they moved to top of Super League.
Last Updated: 31/05/14 7:18am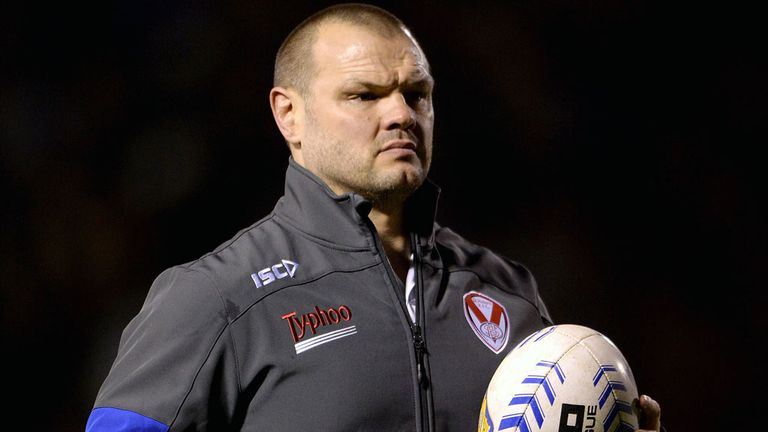 A fortnight ago there was a perception Saints were slipping into turmoil after they were thrashed by Warrington at the Magic Weekend, a defeat that came soon after big losses to Leeds and Wigan.
But that was consigned firmly to history as Paul Wellens-inspired Saints overpowered lacklustre Salford 32-12 at Langtree Park to leapfrog Leeds at the summit.
"It has been quite funny listening to people taking about this crisis we are in," Cunningham said. "We were second and competing for first. It is laughable but we just get our heads down.
"We work hard on the training field and we go out and play as tough as we can, and hopefully we get the results.
"We had a good look at ourselves and where we felt we should be as a club. That performance (against Warrington) is not where we should be."
Saints finished the game without Jon Wilkin, Tom Makinson and Anthony Walker due to injury.
Cunningham said: "I thought all our forwards were great. Anybody who has played in the middle or knows anything about the middle, to lose three subs and have one front-rower to roll three people for 40 minutes is a tough ask.
"I am really proud of what the players did today. I thought we defended really well. We did it tough in the second half and there were a lot of tired bodies out there. Credit to the boys, they did a great job."
Salford troubles
For Salford the troubles continue, with coach Iestyn Harris, who is trying to implement a new playing structure, having overseen just one win in eight games since taking over from Brian Noble.
Harris said: "I thought we created a lot of opportunities, certainly in the second half, but we didn't put the opportunities to bed. In the first half I thought we were a country mile off.
"The team are just learning to do a million things right in a game, which ultimately will give you the end performance.
"We are just not concentrating consistently enough. We will get there but it is a lot of work to do.
"I'm frustrated to be losing games. I am not a good loser and I don't expect my players to be good losers.
"But we have changed one hell of a lot of structure and the players are buying into it.
"We are a better defensive team and I thought St Helens scored against the run of play in the second half.
"We had a bit of momentum and are very frustrated not to be winning these games because I don't think there is much between the sides."