Move saddens Wilkinson
John Wilkinson has expressed his deep regret Salford's final Super League game of the season has been moved to Leigh.
Last Updated: 07/09/12 5:04pm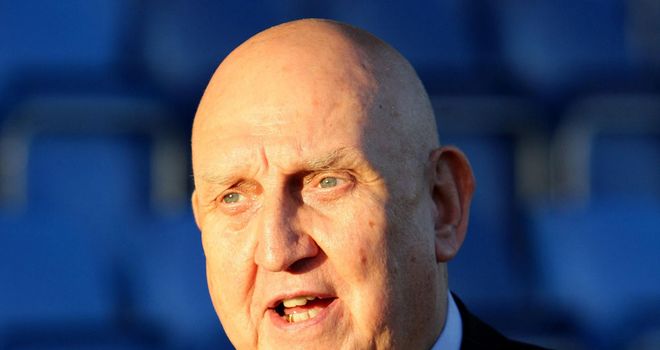 Salford City Reds chairman John Wilkinson has expressed his deep regret the club's final Super League game of the season has been moved to Leigh's Sports Village.
The rugby league club share the Salford City Stadium with rugby union side Sale Sharks, who have an Aviva Premiership game on the same day.
Sale's match is due to be televised, meaning Salford were forced to move their home game in order to accommodate the game for the television cameras.
Wilkinson says the club was left with "no option" but to move their game to another venue, something he has now vowed will not happen again while he remains at the helm.
Saddened
"It saddens me greatly to have to start my final programme notes of the season with an apology - as a proud and passionate Salfordian it is deeply painful to have to play this, the last game of our first season at the Salford City Stadium outside the boundaries of the city we all love," he wrote in the club's programme notes.
"Salford City Reds is the only professional club with the honour of carrying the name of our great city into the sporting arena and it is hugely disappointing not to be able to finish the season as we started - playing in our magnificent new home, Salford City Stadium, very much in Salford.
"It is vitally important to the club and the city that its only standard bearer has a solid base in Salford - we cannot become nomads, as this has fatally wounded other once great rugby league clubs. It will not happen to Salford City Reds, not on my watch.
"To achieve this we need to strengthen our position in all areas - we are aware that our need to get the new stadium built has left us appearing weak in some quarters, but I believe unquestioningly in the strength of the Salford club and its importance to the city and to Super League, and we must regroup and will fortify - and we will convince anyone who doubts us that they are wrong to do so.
Investment
"It has been well publicised that we are seeking new investment, and those negotiations continue and will continue until we achieve the best direction for the club - commercial pressures are ever increasing and that investment is needed to push us up over the crest of the hill and on to the downhill section of our journey when things will get easier.
"It is fair to say that this whole season has been something of a trial - for staff, players and board alike, and I would like to thank everyone involved with the club for their hard work, dedication and support this year, often in the face of near impossible situations and circumstance.
"Players aside, there are many who are often unappreciated working within the organisation, I will not name them but they have never wavered once in terms of effort, hard work and loyalty to a club that they love and support as fiercely as our most diehard supporters - their efforts are very much appreciated by me.
"The city of Salford deserves a great club of its own and once we have all of the pieces finally in place we are confident that we will provide a sporting organisation that fills the Salfordian people with pride, and just as importantly one that will bring recognition and renown for the city of Salford through the power of sport - I believe that every great city needs a great sporting institution of its own if it is to truly be taken seriously."