Luke Patten and Vinnie Anderson owed back pay by Salford City Reds
A winding-up petition against Super League club Salford City Reds has been adjourned until January 7.
Last Updated: 07/01/13 9:28am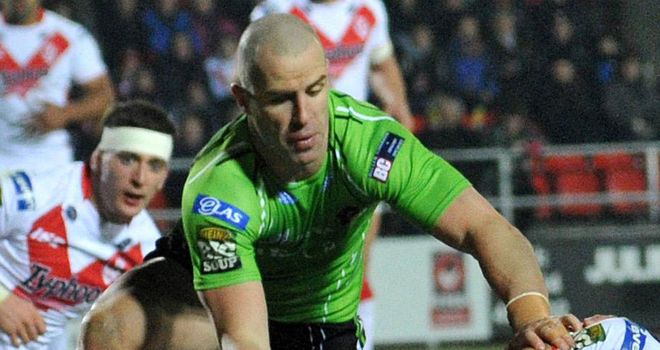 The City Reds were issued the petition 12 days ago by Cheshire-based management consultants Steuer Greggson over an unpaid bill and it was presented in Manchester on Monday.
Salford agreed a settlement with the company before the hearing began but the petition remains active after HM Revenue & Customs joined the action, along with former players Luke Patten and Vinnie Anderson, who are both owed wages.
"Luke was substituted as the petitioning creditor and Vinnie is supporting the petition, which was adjourned to the 7th of January," said Richard Cramer, the players' legal representative.
A Salford spokesman confirmed the new date but said the club expected the matters to be resolved before then - they will make a statement at some stage on Monday.
The players' wage bill for October was settled last week but, according to Cramer, Patten and Anderson are owed back pay relating to a salary sacrifice arrangement which they entered into.
"They don't want to see any harm come to the club but they did what they had to do," said Cramer. "It's been a bit a bit of a worry for both of them.
"They were hoping a deal would have been finalised by now and they could have been paid up.
"I am cautiously optimistic that they will get their money but they need the deal to go through."
Talks
Patten, who retired at the end of the season and has returned to Australia, and Anderson are each thought to be owed around £40,000, while HMRC are thought to be seeking more than £50,000 in unpaid tax.
The City Reds are thought to be at an advanced stage in talks to secure new ownership and investment aimed at resolving their financial crisis.
Long-serving chairman John Wilkinson is believed to be prepared to hand over control of the cash-strapped club if a suitable deal can be finalised.
Talks have been on-going between club bosses, Salford City Council and ground owners Peel Holdings.