Salford City Reds chairman John Wilkinson remains upbeat over club's future
Salford City Reds chairman John Wilkinson has revealed that several potential inventors are interested in the club.
Last Updated: 07/01/13 9:27am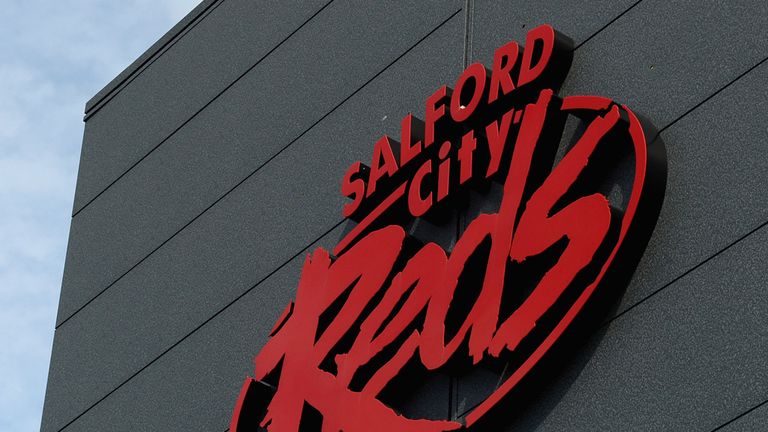 Salford City Council confirmed on Tuesday they were not prepared to inject £750,000 of capital into the club.
That represented a half-share of a £1.5m bailout with Peel Holdings for City Reds, after the club was served with a winding-up petition in October over unpaid bills.
But despite that setback, Wilkinson is confident they can overcome their short-term cashflow problems and could even return a profit next year.
"There are people who have now come to the surface and would like to be considered (as investors)," Wilkinson told Sky Sports News.
"I'd like to open it to anybody who wants to speak to me personally. I would like to tell them all about the club and where we are.
"The business plan for the budgets that have been done for 2013 are robust. We are very confident in that year that we can make a profit.
"I'd like to think that inside the week we've got something in place. That would be ideal for us, that's where I see the time-frame now.
"I am confident that when people come along who are interested and see the business plan in place, they can see it is not an impossible situation."
Wilkinson earlier issued an official statement concerning Salford City Council's decision not to invest in the club.
"The board and myself were obviously very disappointed to learn the outcome of the vote taken by the city council's cabinet yesterday, but we respect and understand the difficult position they were in given the backdrop of budget cutbacks," he added.
"During negotiations the club has been unable to speak freely and has had to respect the process, and it has been frustrating having to sit back and leave incorrect and at times scurrilous speculation unanswered.
"If these negotiations could have been brought to a successful conclusion, as we all expected they would be, it would have secured the future of the club, however this now opens the door to other opportunities.
"The position as it stands is that the club has a short-term cash flow problem that it needs to overcome, however once that is done the club's business plan remains solid, viable and independently verified by leading accounting firms such as KPMG."