Salford City Reds: New owner brings new hope after a difficult off-season
Dr Marwan Koukash turned up just in time for Salford, who have a paper-thin squad heading into the new campaign.
Last Updated: 01/02/13 2:25pm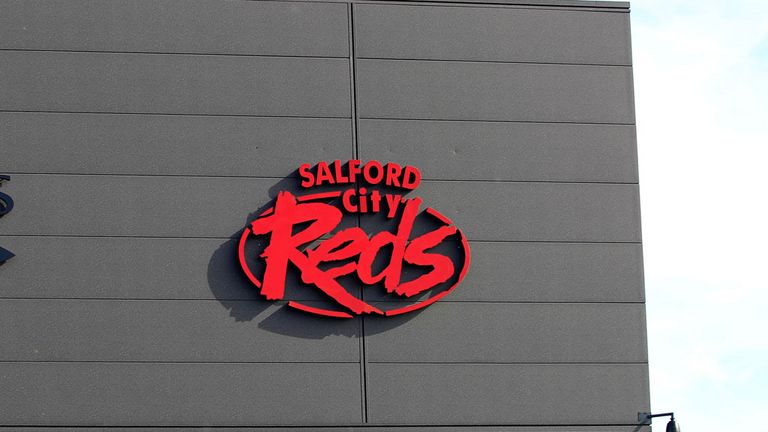 Last season
What was meant to be a brave new dawn for the City Reds at a new home in Barton came close to being the end of an era. In between was a largely forgettable season that saw them once again fall comfortably short of the top eight.
They ended up in 11th place, closer to the wooden spoon than the team that finished in the final play-off berth. The City of Salford Community Stadium hardly turned out to be a fortress either - they won as many games away (four) as they did on their own patch.
Perhaps it was a sign of things to come that they were beaten by Castleford 24-10 on opening night at the ground, the game being played out in atrocious weather conditions.
There was a three-game winning streak that started in February and continued into March, but then there was a failure to win a Super League fixture in the month of April and a dreadful finishing run that saw them fail to win any of their final seven matches.
The highlight of the year has to be a 48-24 home triumph over Warrington, though there was also a dazzling display on the road to Bradford that saw them score 30 points in the opening 40 minutes.
Their cause was not aided by the loss of scrum-half Matty Smith to Wigan midway through the campaign, and since then a number of other key players have headed for the exit door.
Ins and outs
Dr Marwan Koukash won't be lining up as part of coach Phil Veivers' squad this year, but he has been the most important new arrival at Salford. The millionaire racehorse owner completed his takeover in the final furlong of the pre-season and there are already moves to splash the cash.
Reinforcements are certainly needed - the Super League club was forced to postpone a pre-season friendly over the festive period as they didn't have enough players on their books.
As well as Smith's mid-season exit the Reds have now lost stand-off Daniel Holdsworth to Hull, meaning a new half-back combination is required. Sean Gleeson has also headed to East Yorkshire, the centre being snapped up by Rovers to replace Jake Webster.
However, the bigger loss in the centres for Salford will be Joel Moon. The 23-year-old attempted to get out of his contract to return home, then duly pledged to spend the next three years with Leeds. The Rhinos had to pay an undisclosed fee, but if he plays like he did last season it will be worth it.
Luke Patten's retirement leaves a sizeable hole at full-back and Luke Adamson, Vinnie Anderson, Iafeta Palea'aesina and Luke Towers have all moved to France to continue their careers.
The club's financial plight has meant a lack of replacements...anywhere. Andrew Dixon joins from St Helens and Martin Gleeson will look to kick-start his career. Expect a raft of arrivals in the coming weeks as Veivers looks to fill out his squad.
Outlook
David Clegg is a retired headteacher who has been the timekeeper at Salford since 2003. He is also the statistician for the club's under-20's team. He also writes feature articles for the official website, including the behind-the-scenes story to Jordan James' appearance on ITV's 'Take Me Out'. He made it into the Manchester Evening News' 'A Sideways Look At The 2009 Season' for his 3am piano rendition of a Neil Sedaka medley in Perpignan.
Here are his thoughts on the season ahead...
"By the time Salford take to the field for their opening encounter against Wigan, it is widely expected that they will have a new owner in the personage of millionaire racehorse owner, Dr Marwan Koukash, who has pledged to lead the Reds onward and upwards, once he has become chairman.
There is even the suggestion that the deal may include part ownership of the Salford City Stadium, in order to open up revenue streams, which have been denied to the Reds, since the move into their new home.
Player recruitment for the coming season has been held up, whilst negotiations for the takeover have been taking place, but once this has been finalised, coach, Phil Veivers will be able to pursue the signings of several players, whom he has waiting in the wings.
Salford also have the comfort of having young home-grown talent available to them, consisting of the top performers from last season's highly successful U20s side, which finished second, behind champions Warrington, in the Valvoline Cup.
Most notable of these is young French half-back Theo Fages, who, despite the tender age of 17, played much of last season at U20s level. He also impressed in both of Salford's pres-eason games, scoring a try in each.
Both Veivers, and his assistant, Sean Long, have done an excellent job in keeping the squad focused and together, as they look to build upon the fine foundation, they laid during Super League XVll."