Salford City Reds owner Marwan Koukash has defended his audacious attempt to sign Sam Tomkins
Salford City Reds owner Marwan Koukash insists his attempt to sign Sam Tomkins from Wigan was no publicity stunt.
Last Updated: 05/06/13 10:35am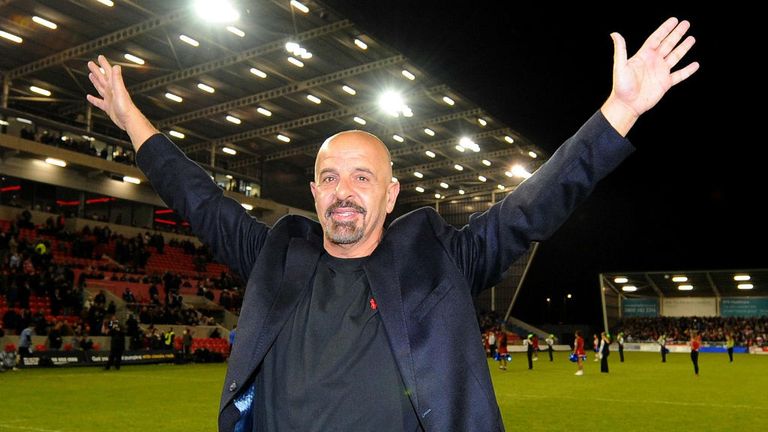 The millionaire racehorse owner put in a bid for the England international as he looks to invest in playing talent to boost a side that lost key players during last season's financial crisis.
Koukash has already failed in bids to land Warrington's Salford-born captain Adrian Morley and Castleford's 2011 Man of Steel Rangi Chase.
But with Australian duo Vic Mauro and Liam Foran having trained with the club for the first time ahead of Friday night's game with fellow Super League strugglers London Broncos, Salford are keen to show their intent in the transfer market.
"I expected those headlines because he is the best player. And it was a big cash offer," said Koukash.
"I don't know why people call it a publicity stunt. We don't lack ambition, we don't lack the finances, we don't lack anything. We have everything to make us a top side."
Joel Moon, Daniel Holdsworth and Matty Smith were all tempted away at the height of the club's financial plight last year while Stefan Ratchford and Richie Myler were previous big name acquisitions by Warrington.
But Koukash has stated he is keen to recapture some of their top talent as they look to climb the table.
"I want our boys back. I'm not going to mention names but last year the so-called big clubs used our financial difficulties to entice our players away," he added.
"Now, if it means me using our financial strength to entice them back, I will."
Reds head coach Phil Veivers is also keen to sign at least two more players, with Gold Coast Titans centre or second rower Luke O'Dwyer currently mulling over the offer of a three-year contract.
"We've been talking to Luke for the last week and hopefully we're in the final stages of negotiations," said Salford's new chief executive Ed Farish.
"I'm more hopeful now than I was two or three days ago."