Super League: Salford's Tim Smith says Marwan Koukash good for rugby league
Tim Smith believes Marwan Koukash is good for the game despite the owner's presence meaning more pressure at Salford.
By James Pearson (@SkySportsPeo)
Last Updated: 08/02/14 6:24pm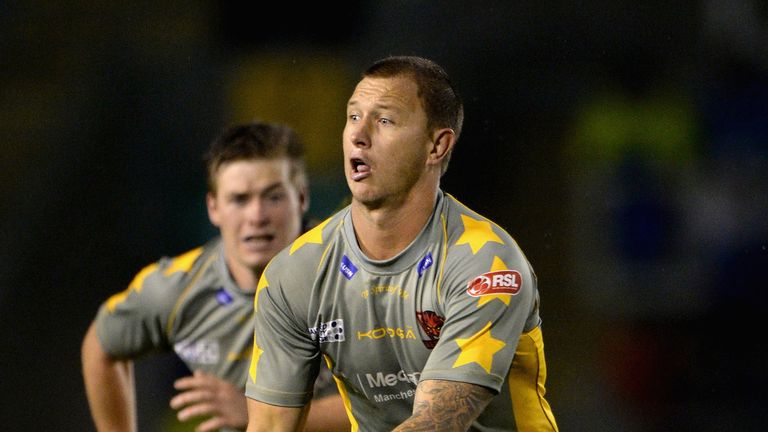 The Australian half-back swapped Wakefield Wildcats for their rivals during the close-season in order to help the ambitious club climb the Super League ladder.
Salford finished bottom of the table in 2013 and Koukash hopes at the very least they will finish in the top six this time around. That means more pressure for Smith, but that is not something that concerns him.
Koukash is often outspoken and forthright with his views and the millionaire racehorse owner has Smith's backing.
"I suppose. He obviously speaks his mind. It's a good thing too," he told Sky Sports. "I get on really well with Marwan. Obviously there's a little bit of pressure there, but that's why we play the game isn't it?
"For the game he's definitely a bonus. The game needed someone with his personality I suppose to give it a bit of a shake-up.
"Since we've been on the training field we haven't probably seen a hell of a lot of him. We've just been knuckling down and trying to do what we're meant to do and that's train and getting ready for games."
Smith and fellow new signing Rangi Chase will make up Salford's halves pairing and the 29-year-old is looking forward to seeing how they develop.
Partnership
The duo played in pre-season friendlies against Leigh Centurions and Warrington Wolves and he sees no reason why the partnership cannot be fruitful.
"It's one of the reasons why I signed," he continued. "To play with someone like Rangi is definitely a bonus. I think both of our games will complement each other.
"He's very exciting and unpredictable at times. I'll probably play a more simple game. I think it's going to help us in the long run and also with the team. If that's working things usually fall into place.
"We want to go out there and really show what we can do. We want to start well. Hit the ground running I suppose."
Smith signed for a Wigan as a 23-year-old in 2008, however, he failed to make a massive impact and a year later his contract was ended early due to a shoulder injury.
The former Cronulla Sharks man will be in the spotlight once again at Salford, but he insists he does not have a 'point to prove'.
"I'm older and comfortable with the way I'm playing. With quality players around you, you don't have to do a hell of a lot. You just have to concentrate on your own role and did it the best you can."