Super League: Salford coach Brian Noble hails 'golden ticket' plan
Salford coach Brian Noble has hailed the "golden ticket" plan of his chairman Marwan Koukash.
Last Updated: 26/02/14 5:20pm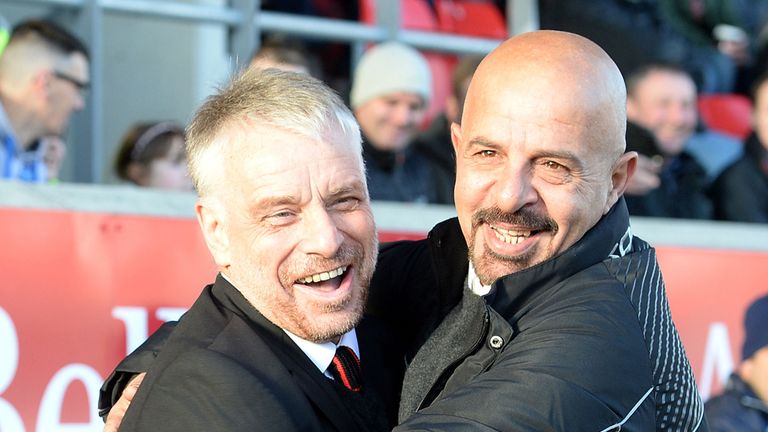 A proposal to make a high-profile player exempt from the salary cap is high on the agenda and expected to receive approval from representatives of the 14 clubs who are meeting at Hull's KC Stadium on Wednesday.
Koukash is one of the proponents of the idea, which is seen as a way of reversing the drain of players from Super League to rugby union and the NRL, and wants to take it further by giving clubs the opportunity to sell on their "golden ticket" if they do not wish to make a marquee signing.
"I think it's a brilliant way to get money in the game," Noble said.
"For clubs that don't have the affluence to go out and get their own marquee player, to offer it to someone else, surely it's a mechanism for spreading some money around in the game.
"What a brilliant way to compensate them.
"It's lateral thinking, it's some thinking rugby league has needed for a while in a lot of areas."
Noble signed Wales winger Gareth Thomas in 2010 when he was in charge of Crusaders and is currently being linked with England centre Manu Tuilagi.
"The game needs superstars," Noble said. "In the year Gareth Thomas signed the copy went through the roof.
"We have trouble getting national coverage and, unless we do things out of the box - some innovative things - without breaking the bank of the game - there needs to be a bit of sobriety around finances - then do it.
"If someone wants to spend money on getting some stars in the game, then I'm all for it."
Noble admits he has identified rugby union targets for Salford, although he says there are major obstacles.
"Financially, you have to compete with rugby union for the player and you have to give him a product that is attractive," he added.
"The player has to want to come and play rugby league. It's a little bit like Sam Burgess going to rugby union - I'm pretty confident there is an element of challenge in there for him because of the guy that he is.
"I think there are lots of rugby union players out there who have the ability to make rugby league players.
"It might take time because they are different games but absolutely there are players out there that can make the transition.
"The flow at the moment seems to be one way because of the athleticism and prowess of our players and they will come for more unless we do something about that."