Super League: Fraser Dainton interviews Salford Red Devils boss Iestyn Harris
Fraser Dainton sits down with Salford head coach Iestyn Harris ahead of the weekend trip to Catalan Dragons.
Last Updated: 01/05/14 11:03am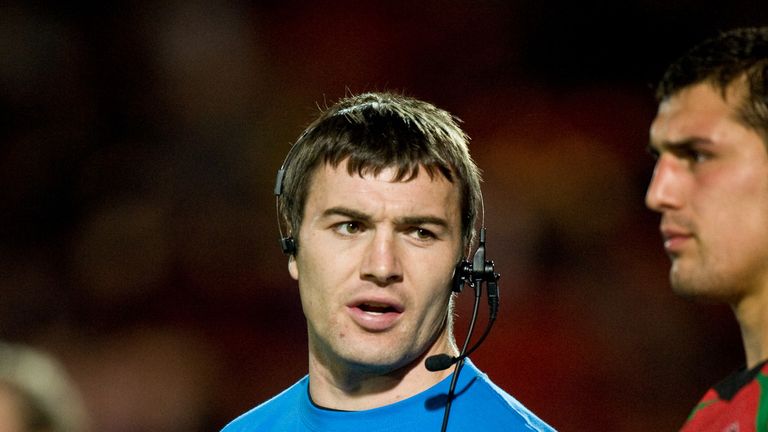 The slogan on his t-shirt says everything you need to know. "Whatever your 100% looks like, give it." Iestyn Harris expects nothing less.
As a player, it's exactly what he gave - and he won everything club rugby league has to offer - including Man of Steel. Now as head coach of the Salford Red Devils, he has the perfect opportunity to be just as successful. But it's been a difficult start.
An initial win at Bradford has been followed up by defeats to Huddersfield and Leeds and a Challenge Cup exit at the hands of Widnes, which the club's millionaire owner Marwan Koukash described as "the lowest point of my sporting life."
But Harris shrugs off the perception that he is under pressure to deliver, saying: "The most important thing if you're in professional sport is that you have high standards of yourself. My standards are as such that I know that the only person who needs to reach them is myself.
"If I can look at myself and say I've done everything I needed to do to get this team to where I believe we can get to, then pressure is irrelevant. Things will happen outside, but all you can do is deal with what your standards and expectations are."
Strategy
Harris has taken over a star-studded squad, full of experienced players. Fourteen new additions were made over the winter, and while Brain Noble was expected to turn then in to a genuine Super League force, a disappointing opening to the season ultimately saw him replaced.
But that's meant Harris has had to start virtually from scratch, and although he has a huge array of talent at his disposal, getting the right blend at this level is what makes good teams great.
He says: "What you can't do is throw everything at them in the first two or three weeks, otherwise it will go over the top of everybody's head - you won't implement anything.
"We've got to strategically plan what we're introducing at what times, what level of detail. We're probably introducing what we'd like to do in a pre-season, you'd like to have time to master the skills, and then repeat, repeat, repeat, until you become an expert at it."
He is however, confident things are beginning to change.
He adds: "I've got my philosophies on the way I want to play. They're just starting to get used to that, the sort of consistency, the intensity of how we train, the detail of what we want to put in.
"What I would say is that the players have given absolutely everything they've got. We can start to see improvements in training which will come through in the game, and I'm pretty sure that will happen soon."
Things won't get any easier for Salford in the short term. They now have to travel to a rejuvenated Catalan Dragons side that have won their last three Super League games on the bounce.
But Harris insists: "We're confident going over there that we're at a point now where we can start to express ourselves on the field with what we've done off it. We feel as if the small improvements are going to start to come pretty quickly, so hopefully it will begin this week."