Super League: Harrison Hansen has no regrets about leaving Wigan for Salford
Salford's Harrison Hansen insists he made the right decision to leave Wigan as he prepares to face his former club.
Last Updated: 22/05/14 9:06am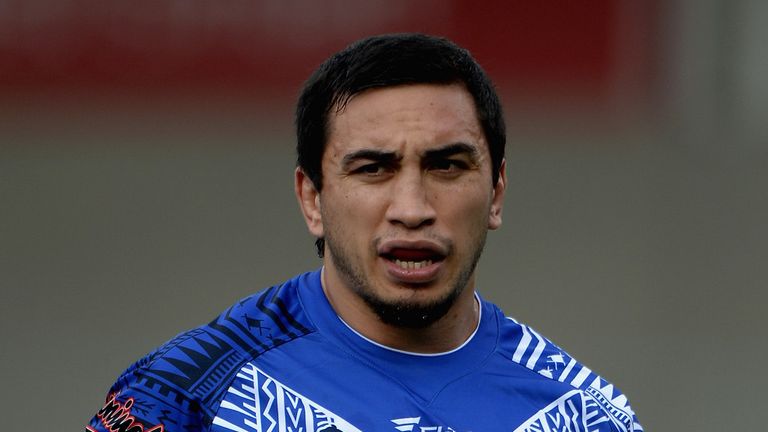 The 28-year-old back-row forward helped Wigan secure the double last year, but ended his nine-season spell with the Warriors to link up with home-town team Salford.
Hansen, who sacrificed a testimonial, was among a number of big-name signings by owner Marwan Koukash, but the new-look side have failed to deliver so far, slipping to 11th in the table.
Hopes of a top-six finish have been dented by a paltry total of one point in the last five matches, although Hansen is refusing to panic at this stage in the season.
Victory over the champions could kick-start Salford's campaign and he will line-up alongside ex-Warriors Gareth Hock and Martin Gleeson, while on-loan Logan Tomkins is eligible to face his parent club.
"I can't wait," Hansen said. "It's the one game that I've been looking forward to this year, especially at home.
"Obviously, we've got a few Wigan old boys and it will be great to play against them and hopefully bash a few.
"It was tough to leave, considering the amount of time I spent there and the friends I made, but it was the right one for me and I've no regrets.
"I said I felt like I needed a new challenge and this is a challenge. There's no regrets, I'm enjoying it here. Obviously things are not going our way but things will change. We've got the right people in, we've got the right coach, it's just taking time."
Talent
Ultimate Weekend
A sporting spectacular awaits later this month - from 22nd to 25th May Sky Sports will show live coverage of the BMW PGA Championship, the Monaco Grand Prix, the UEFA Champions League Final, the Heineken Cup Final, the Championship Play-Off Final, England v Sri Lanka ODI cricket and much more. Don't miss the ultimate weekend live only on Sky Sports, your home of live sport. Upgrade in minutes or buy a NOW TV Sky Sports Day Pass.
Wigan coach Shaun Wane will be pitted against former right-hand man Iestyn Harris, who succeeded Brian Noble in the Salford hot seat.
Harris' side have struggled since they started his reign with a win at Bradford, but Hansen insists that progress is being made.
"We are our own worst enemies," he said. "We just give away too much easy ball and let teams back into games.
"If we keep hold of the ball and build a bit of pressure, teams will crack because we've got enough talent in our squad to score the tries.
"It's the little things we've got to get out of our game. There's nothing drastic. Iestyn and the coaches are doing a great job, it;'s just individual errors and going away from our game plan.
"It is slowly getting there. From where we were five or six weeks ago, there is a massive difference but this will be the test against Wigan.
"We can't give away sloppy possession to a team like Wigan. As soon as you give them ball, they're capable of scoring 50-plus points, they're that good. We're working hard and, as long as we control the ball and stay in the grind, we've a good chance against Wigan."