Super League: Marwan Koukash worried by Salford Red Devils' lack of pace
Marwan Koukash has conceded Salford's lack of pace is a worry in the wake of their 25-4 defeat to Wigan Warriors.
Last Updated: 27/05/14 12:02pm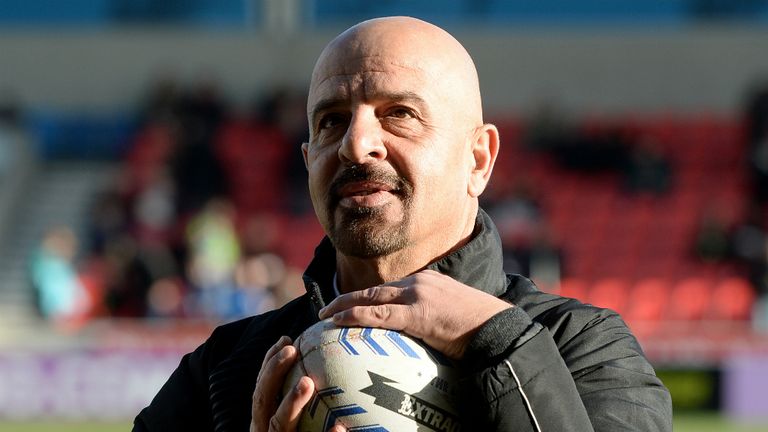 The Warriors were plagued by injury in last Thursday's Super League contest at the AJ Bell Stadium, but Shaun Wane's men were able to pull clear in the second-half after a keenly-contested opening 40 minutes.
Koukash replaced Brian Noble with Iestyn Harris as head coach and the millionaire racehorse owner knows the Welshman can do little to increase speed in his team's ranks.
The Red Devils are certainly going to be quicker in 2015 following the additions of Kevin Locke and Ben Jones-Bishop, however, the pair cannot help the club's current poor run of form.
Salford are five Super League games without a win after beating lowly Bradford, however, Koukash is happy with Harris and believes his ambitious club are moving in the right direction.
Working hard
"Iestyn is working so hard to try and make things happen and he has definitely made a difference since coming in," he told the Manchester Evening News. "We all sat down and watched the Wigan game together and there were some important lessons to be learned from it.
"First and foremost, we lacked pace - this was clear and it was this that let us down at times. Remember, though, that Iestyn cannot create and generate pace.
"That is why it is my job to support him and bring in players with pace for him to work with.
"This is why we have already looked at areas where we needed to improve and why players such as Kevin Locke and Ben Jones-Bishop have already been recruited.
"Pace is so important and this is what brought Wigan their tries and separated the two teams. I know for a fact how determined Iestyn is to bring success to this club.
"I am more than happy with the job he is doing and share his view that there is progress.
"He never stops working and his commitment is there for all to see. We just have to keep going but the effort is certainly there from everyone. We will get there."