Wembley-bound
Warrington Wolves forward Chris Hill is looking forward to his first-ever trip to Wembley.
Last Updated: 17/07/12 4:54pm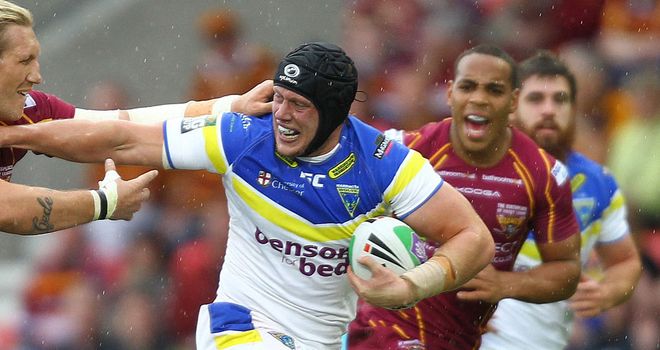 Warrington Wolves forward Chris Hill is looking forward to his first-ever trip to Wembley when they meet the Leeds Rhinos in the Challenge Cup final.
A day after Leeds upset holders Wigan Warriors at Huddersfield's Galpharm Stadium Tony Smith's men clinched their spot in the final with a 3-6 win over the Giants.
The 24-year-old has played a pivotal role in the Wolves' march to their third Wembley appearance in four years and he will be one of the first names on coach Smith's team sheet for the August 25th contest.
Hill normally takes full advantage of a weekend off during the Challenge Cup final, although this year he is expecting to be giving his all for his team.
First time
"I've never even been down to Wembley, not even to watch," Hill revealed.
"At Leigh the fourth round was the furthest we got. We always drew a Super League side so it was always a struggle.
"I usually get away for the weekend but this time there will be no weekend away."
Hill, whose biggest match up to this year was the Northern Rail Cup final against Halifax last July, says he has to constantly pinch himself after making the seamless step up from the part-time Championship to Super League.
He sat out Warrington's opening two fixtures but has appeared in all 22 since and is currently keeping stalwarts Adrian Morley and Paul Wood out of the starting line-up.
Expectations
"It's been a real high for me," he continued. "It's probably exceeded my expectations for this year.
"To come into a team like this and in my first year get to Wembley, it is unreal.
"I have to thank Tony for believing in me. He kept the faith in me throughout the year.
"I have never been in situations like this. I know I was in the Northern Rail Cup final but this is a different level.
"I'm absolutely loving it. It's a privilege to be playing with some of the players that are here and it gives you that confidence.
"People like Monners (Michael Monaghan) and Mickey Higham are really good talkers they are helping my game a lot.
"They have been there and done it. You get a calmness from having them around, especially before big games."