Paul Wood not bitter after losing a testicle in Grand Final defeat to Leeds Rhinos
Warrington's Paul Wood has revealed the agony of suffering a ruptured testicle in Saturday's Grand Final loss to Leeds.
Last Updated: 10/10/12 10:15am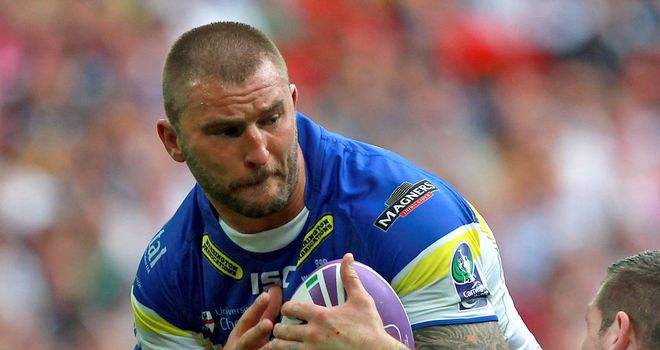 The forward sustained the blow early in the second half following a tackle from Kallum Watkins, but remarkably he managed to continue playing for another 20 minutes.
It was only when the game had finished the pain intensified. Wood was examined and it was determined that he would require an operation to remove the testicle.
"I was playing and it was the first minute of the second half, I remember doing it. Took the ball and I think it was Kallum Watkins' knee that I collided with, totally accidental, and I knew I had done something," he told Wire FM.
"I just tried to shake it off but it was getting worse so I managed to play 20 minutes. The real pain started as I came off. When I sat down and tried to put some ice down there hoping that'd ease it just got worse as the swelling got bigger and bigger.
"The doctor examined me and said, 'You'll need to go to hospital because we think you've ruptured your testicle.' So he had a prod round and a feel and confirmed it and they said there's nothing they can do.
"Since I've had the operation it's released a lot of pressure. At the time I did it, the swelling was getting bigger and bigger and that was quite excruciating.
"They explained that if it did need to be removed it doesn't affect you in any way. If I wanted to have more kids, that's fine. You can have one perfectly healthy one and still lead a normal life."
Insisting he was not bitter over the incident, he added: "I try not to get down on anything and stay as positive as I can. If I really needed to keep this testicle to have a normal functioning life, then I would have been devastated, but it doesn't mean anything.
"I've had loads of messages saying, 'You've done the team proud to carry on' but in situation, you get the grand final and pick up injuries and you play on.
"It's a funny mindset that you get into with rugby league. I'm sure if it was any of the other lads they would have done the same thing. It's just doing your job and not letting your team-mates down really."