England's Richie Myler keen to start Sunday's Autumn Series final against France
England's Richie Myler is hoping to retain his starting place for Sunday's Autumn Series final against France.
By @SkySportsPeo
Last Updated: 08/11/12 11:36am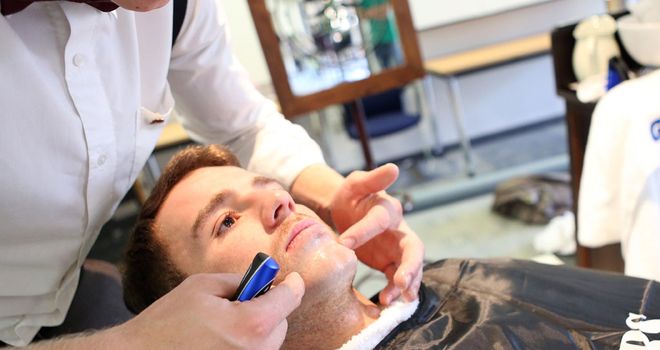 The Warrington Wolves playmaker featured in England's wins over Wales and France after Castleford Tigers half-back Rangi Chase suffered a groin injury.
Myler has taken his chance with both hands and done his chances of featuring in the final at the City of Salford Stadium no harm, although he is taking nothing for granted.
"I've quite enjoyed it. It's always great when you put on an England shirt," he told Sky Sports. "I'm very proud to wear it.
"Any time you put on an England shirt you're very proud to do it you just relish that day and that game, so hopefully I'll have another chance to play this week and get the job done.
"I'm just going to take my chance whenever I get a go. If I get a go this week I'll be more than happy to dig in and do my best."
England crushed Wales 80-12 in Wrexham before easing past France last Saturday 44-6 at New Craven Park, although Myler insists the series has been beneficial ahead of next year's World Cup on home soil.
"Obviously there was a bit of a run-out score against Wales. Anyone who watched the game against France can see it was a tough encounter. They've got a few players back this week and that spices it up a little bit more for the final," he continued.
"It's not the Aussies and Kiwis but it's where we want to be at the moment and building for the World Cup which is in the back of everyone's minds. It's a good change for us.
"Every time you play you want to play against the world's best, but there's an opportunity to do that 12 months down the line. We want to build for that process and we feel this is the right way to do that. With the Aussies and Kiwis opting not to come over this year it's dealt our hand. We hope to get the right result on Sunday."
Looking forward
Warrington came within 90 minutes of securing a rare double in Super League last season, something Myler is keen to rectify in 2013.
The Wolves put Leeds to the sword at Wembley in August only to fall at the final hurdle in the Grand Final to Old Trafford specialists Rhinos, who claimed a fifth Super League title in six seasons.
"We're pretty pleased with last season with the way it went. We finished second and were in both finals, which was a big achievement for the club and a big achievement for the group of players.
"We want to go one further again this year and get back to both finals and do a job again. We set our sights and standards pretty high and hopefully we can achieve what we did last year."
Myler is one of a number of England players who is supporting Movember, a moustache growing charity event held during November each year that raises funds and awareness for men's health - specifically prostate cancer and testicular cancer, although it is not a look he will be keeping long-term.
"Movember is for a great cause. I think everyone in the public gets behind it. It's a great thing to do. It's easy to have a shave and leave moustache. You get some funny looks when you walk down the street, but I think everyone's embracing it. It's for a good cause.
When asked if he would consider retaining the new look beyond November, he concluded: "I don't think the missus would let me do that. No. I'll be clean shaven after Movember."
Gillette and England Rugby League are proud to support Movember. Gillette's 'Best a Mo Can get Barbers' on Newburgh Street in London is free for all Mo Bros throughout the month. Visit www.facebook.com/GilletteUK