Wolves live on Sky
Live coverage of Warrington's Super League XVIII campaign on Sky Sports begins with a trip to Wigan.
Last Updated: 19/11/12 6:26am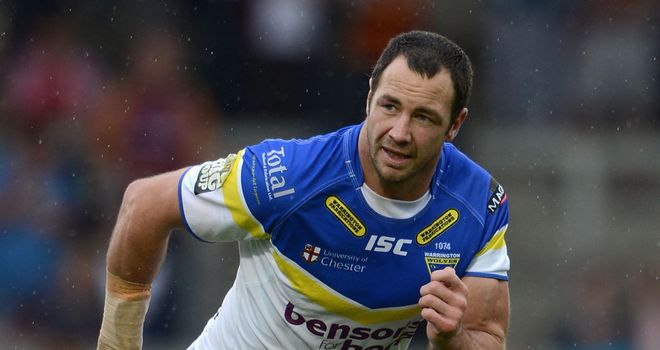 Live coverage of Warrington's Super League XVIII campaign on Sky Sports begins with a trip to Wigan.
Sky Sports will show every club live by the end of Round 6 when Super League XVIII commences in February 2013.
Reinforcing Sky Sports' commitment to Rugby League, Monday night games return May in Round 15. Once again, Leeds v St Helens will kick off 'Extraordinary Mondays' on Monday 20 May. Magic Weekend follows a week later in round 16 with all seven matches and fourteen clubs shown live on Sky Sports.
Sky Sports' coverage will also feature a strong line-up of Rugby League programming including the weekly magazine show Boots 'N' All, Super League Super Men, debate show Super League Back Chat and Super League Full Time, a weekly live full round-up, analysis and discussion of all the tries from the weekend on Sunday nights.
This season Sky Sports HD will broadcast over 70 matches from the Super League XVIII exclusively live and in HD, with selected 3D matches available. Subscribers can also watch live coverage online and on mobile and tablet devices via Sky Go at no extra cost. Viewers can look forward to:
• The top four clubs from Super League XVII last season shown live twice by Round 6
• Each club shown live at least once by the end of the sixth round
• Three great derby matches around Easter weekend with Catalans at home to Leeds on Easter Monday
Live coverage
Live coverage begins on Friday 1 February when defending champions Leeds begin their campaign for a record-beating seventh Super League title with a home clash with Hull FC.
Next up, on Saturday 2 February, St Helens will host Huddersfield Giants. The following weekend will see last season's finalists and runners-up Warrington travel to Wigan on Friday 8 February and Wakefield play host to Hull KR on Saturday 9 February.
Sky Sports will also show international games, exclusively live coverage of The Challenge Cup with quarter-finals on Friday 12 July and Monday 15 July as well as the World Club Challenge match at Headingley Stadium between Leeds Rhinos and Melbourne Storm on Friday 22 February.
Super League Chief Executive Nigel Wood said: "We are delighted that live Monday night Super League action is returning to Sky Sports in 2013. Extraordinary Mondays greatly enhanced the competition in 2012 and helped showcase the excitement of Super League and the skills and athleticism of the players to a wider audience. I am sure that Extraordinary Mondays will continue to grow in popularity, among Rugby League fans and new viewers alike."
Announcing the new season fixtures and return to the Monday night slot, Neville Smith, Executive Producer Sky Sports Rugby League, said: "This is going to be a great year for Rugby League, and we're reinforcing our commitment to its growth and popularity with over 70 live Super League games and the return of Monday nights.
"We'll continue to deliver exclusive, live HD and 3D coverage, and we'll broadcast from every stadium in the League. Alongside this, we have our fantastic stable of magazine shows, bolstered when Super League Back Chat and Super League Full Time joined the line-up last season. We're also pleased that Sam Tomkins will continue to work with Sky Sports - watch this space!"
Click here to see all scheduled live games on Sky Sports