Adrian Morley in confident mood about Warrington's chances of landing the double
Warrington captain Adrian Morley believes his side can complete the Super League and Challenge Cup double this season.
Last Updated: 09/01/13 8:41am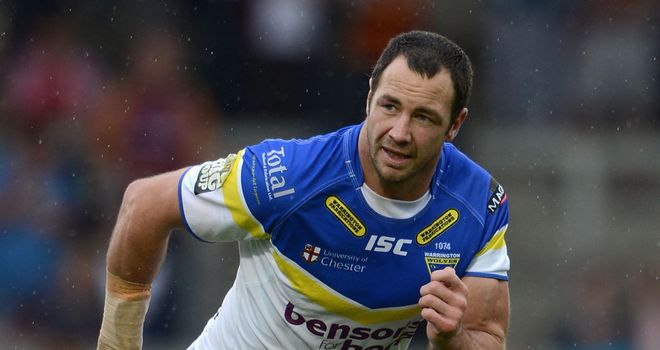 The Wolves go into 2013 as favourites to go one better than last season, when they were beaten by Leeds in the Grand Final after beating the Rhinos earlier in the season at Wembley.
They have a similar squad to last year and Morley feels that continuity, plus the prospect of more promising youngsters coming through as Ben Currie did in 2012, will prove to be a real benefit for the club.
"We feel confident we can make an assault on both competitions," Morley said. "I think it can be done. It's quite difficult but it's not impossible by any means.
"With the exception of David Solomona, we've retained the squad from last year and we're really pleased about that. When you make changes, it takes players a while to learn how to play with each other.
"We did win the Challenge Cup and make the Grand Final so you'd think we'd be there or thereabouts this year.
"I'm really excited at what Benny (Currie) can offer. He played a few games last year. He's got a great physique for his age, he's very mature, strong and quick and he's got a good rugby league brain.
"I think there's a number of youngsters who can stake a claim. We've got about 30 players up to first-team standard.
"Last year was quite disappointing for me personally. My form throughout the year wasn't up to my standards. Injuries dictated a lot of that but, as a whole, it wasn't a classic year.
"All my injury problems are behind me and I've had a good rest and I'm chomping at the bit. I'm in no rush to get another year. As I say, I was disappointed with last year and, if it got to that stage again, I'll just call it quits."