Super League: Warrington Wolves' Adrian Morley expects thrilling Leeds contest
Adrian Morley is expecting an exciting match when Warrington meet Leeds in the Super League play-offs on Saturday.
By Sam Drury - @SamDrury11
Last Updated: 14/09/13 2:39pm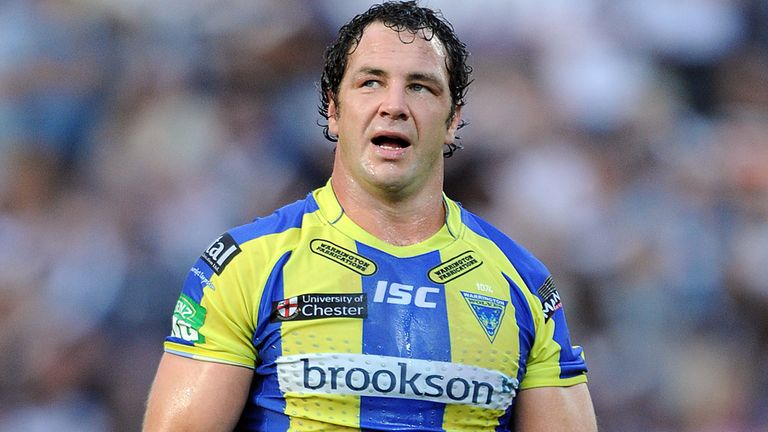 Wolves and the Rhinos met in last year's Grand Final with Saturday's visitors emerging victorious and Morley is hoping that Warrington can draw on their experience from last season to help them through.
Morley, who will join Salford next season, acknowledges that it will be an extremely difficult match against the reigning champions at the Halliwell Jones Stadium and points to recent meetings between the sides as proof of how close the game could be - Wolves won 19-18 at home in July.
"They (Leeds) are the reigning champs," he said. "It's going to be tough but there have been some fantastic games between the two teams over recent years.
"The last game in particular was a real nail biter that we won by one point at home. They've got a few of their big players back but we are in a very healthy position injury-wise as well so it's all adding up to a cracking contest.
"Even though Leeds are the champions, the experience we got last year in the play-off series and making the Grand Final is going to be invaluable; we can draw on that and hopefully it can be the incentive to go one better this year."
The 36-year-old prop was full of praise for the Rhinos but remained confident that Warrington know what they must do to hurt Brian McDermott's men.
Threats
"It's hard to single any one person out (as Leeds' star player) as there are a number of threats in a number of positions," Morley admitted.
"They are probably the form team and had a real confidence-boosting win at Wigan but we are confident at the moment too; we know their strengths, we know their weaknesses so we are going to execute well and hopefully that will be enough."
Both sides go into the game knowing that they have the safety net of a second chance to reach the last four should they lose on Saturday but Morley was adamant that no such thoughts will cross the minds of the players in either side.
"It is a must win," he added. "And I speak on behalf of Leeds too, they are not going into this game knowing they've got a second chance; neither are Wigan or Huddersfield.
"Last year we were in this position and unfortunately got beaten so we want to win come Saturday; there's no two ways about it."