Super League: Warrington Wolves legend Lee Briers retires on medical advice
Warrington Wolves veteran Lee Briers has been forced to retire from rugby league on medical advice.
Last Updated: 08/11/13 6:07pm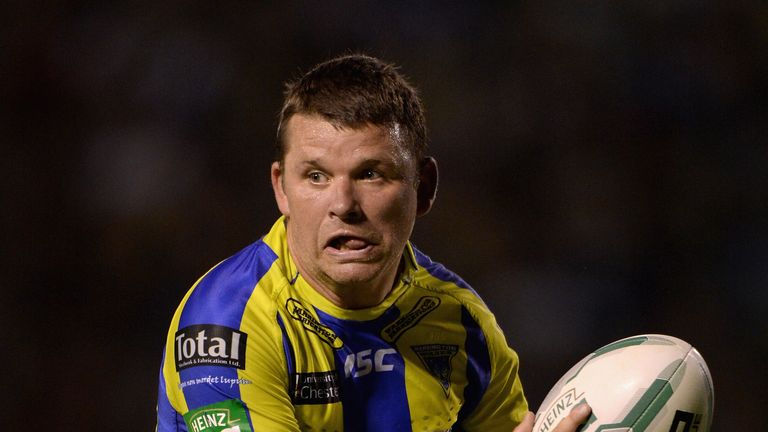 The 35-year-old half-back joined Warrington as an 18-year old from St Helens in 1997 has made 425 appearances for the Primrose and Blue, including a club record achievement by becoming the leading points scorer in their history with 2586 points.
Briers signed a new one-year contract in July but, following an independent medical recommendation, he has had to call time on his illustrious career.
Numerous scans and consultations have highlighted the damage sustained to Briers' neck, leaving him with no option but to hang up his boots, although he will remain with Warrington as part of their coaching set-up.
"It's unfortunate, but I feel blessed to have played with some great players, coached by some great coaches and I've been at a great club in Warrington," Briers told Sky Sports.
"There are a lot of people worse off than me in the world; I just have to get on with the next chapter of my life.
"I've enjoyed every minute of it. There have been some ups and some downs, but I wouldn't swap it for the world.
"It would have been nice to have finished my career with a win in a Grand Final, but it wasn't to be. I won't be dwelling on that last game (when Warrington lost to Wigan at Old Trafford), I will be looking back with fond memories and taking a lot of positives out of it."
New role
Briers had already done some coaching work with the club's academy and has now signed a two-year contract to continue in that role on a full-time basis.
"I started the under 19's at Warrington when I first had s scare with my neck earlier this year, but I've now signed a two-year contract to go full-time with that squad," he added.
"I'm really looking forward to it, there are some really exciting kids at Warrington and hopefully we can get some superstars out of them and into the first team."
Wolves' head of coaching and rugby Tony Smith added: "On behalf of the Warrington club, its supporters and Rugby League fans I'd like to thank Lee for his contributions to the game.
"He has brought enormous enjoyment and pleasure to those who have witnessed his skills.
"I have personally enjoyed watching Lee develop both as a player and a person and look forward to working with him in the next chapter of his career."