Super League: Ben Westwood ready to face Wigan for first time since 2013 Grand Final
Warrington co-captain Ben Westwood is hoping for a "great spectacle" when Wigan visit the Halliwell Jones Stadium.
Last Updated: 19/03/14 9:45pm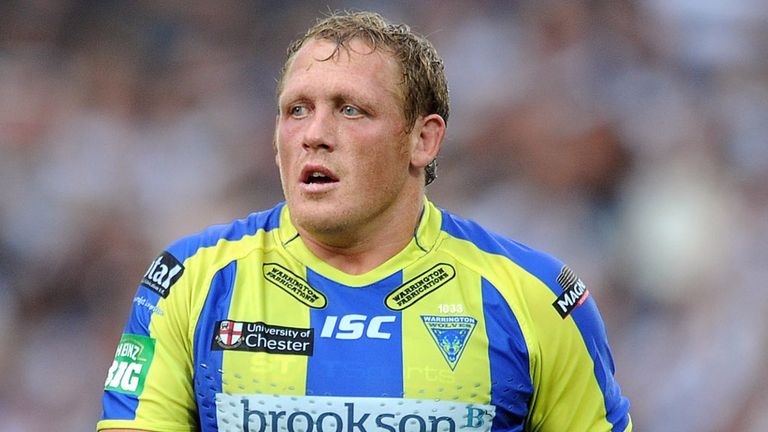 The Wolves host the Warriors at the Halliwell Jones Stadium on Thursday night, live on Sky Sports, and will be hoping to reverse the result of their last competitive meeting of the pair.
When they did battle at Old Trafford last October it was the Cherry and Whites who came out on top, turning around a 16-2 deficit to seal a league and cup double with a 30-16 triumph.
The two sides are yet to hit top form at the start of the 2014 campaign, though both go into the fixture on the back of victories, and Westwood expects another classic in front of the Sky television cameras.
"We got off to a pretty poor start but we've been getting better each week and so have Wigan," he said.
"Hopefully it will be a great spectacle. It's a game that the whole of Super League looks forward to. It's going to be pretty tasty."
Casualties
As can be expected in battle, there were casualties for both teams in an intense final in Manchester.
Warrington lost Stefan Ratchford and Joel Monaghan to injury, while their opponents saw Blake Green suffer a broken cheekbone after a tackle by Westwood early on in the first half.
The hit resulted in the England international being handed a one-match ban, meaning he missed the World Cup warm-up match against Italy, though he hopes Green doesn't hold a grudge.
"It was just one of those things," said the second rower. "It was early in the game. I'm not sure whether I meant to hit him flush on the cheekbone but it happened. Hopefully he's forgotten about it.
"Things like that do tend to happen now and again in rugby league. Most of the time, you carry on playing and shake hands after the game and it's all forgotten about.
"Whether it will be I don't know but it doesn't bother me really."
Wigan coach Shaun Wane says Green has little recollection of the incident but he himself has vivid memories of the way his player recovered to produce a man-of-the-match performance.
"I don't think he remembers a thing," Wane said. "But it was a great night for him to show the toughness that he did, breaking his cheekbone in the first set and carrying on and getting the man of the match, scoring a great try in the process.
"He went up in my estimation in that game."
Wane was certainly not impressed by Warrington coach Tony Smith using his squad in a series of opposed training sessions with Sydney Roosters during their pre-season trip to Australia.
Smith made no secret of his willingness to help the Roosters prepare for their World Club Challenge duel with the Warriors, with Westwood insisting it was an ideal opportunity to work with the reigning NRL champions.
"I didn't think we did too much wrong," he said. "We decided to do a few training sessions with the Roosters.
"It was nothing major really. I'm sure Wigan were getting tips on the Roosters from South Sydney with (former Wigan coach Michael) Maguire being there.
"We benefited from the sessions just as much as they did, probably more so for us. We learned a lot from the Roosters."