Super League: Warrington's Tony Smith frustrated at RFL disciplinary consistency
Warrington coach Tony Smith has revealed his frustration over the three-match ban handed out to forward Ben Westwood.
Last Updated: 29/05/14 4:22pm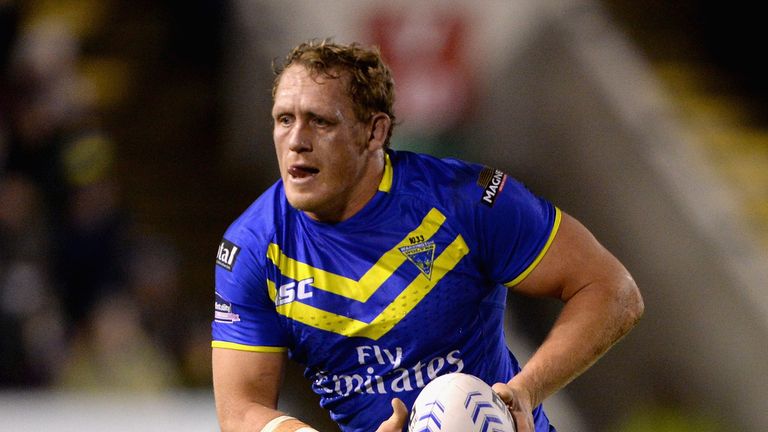 Smith feels Westwood was deserving of a suspension for his 'dangerous throw' on Wakefield's Scott Anderson but he does not think the Rugby Football League applies disciplinary procedures on a consistent basis.
And he fears Westwood's reputation has counted against him in terms of the severity of the punishment.
Smith brought his laptop to his latest weekly press conference to highlight an unpunished tackle by St Helens' James Roby on Warrington's Michael Monaghan at the Magic Weekend earlier this month, showing it to be little different to the Westwood offence.
"I don't mind that Ben is punished for what could be classed as a dangerous tackle, as long as all the dangerous tackles are punished," he said ahead of Friday's Sky Live date with Leeds.
"I have just shown an incident that happened to one of our players the week before. It is there for everyone to see, whether it was dangerous or not.
"I am not trying to get anyone else into trouble but I want everyone else to be dealt with in the same manner, and in a fair manner.
"It hasn't helped put my faith in the current system after seeing a couple of incidents dealt with in severely different ways.
"I have no problem clamping down on lifting tackles but let's do it fairly and not pick and choose on the basis of maybe their past records or where they sit within the game or reputation they have.
"Let's deal with them all in the same manner.
"We all know Benny plays it rough and tough and cops it rough and tough. He doesn't expect too much more, except that he gets dealt with in the same way other people do.
"That is the distressing thing for Benny and us as a club. I have no problem with anybody else from any other team, as long as they are dealt with in the same manner.
"If they have got a similar record, I understand the taking into account but there is also a duty of care that needs to be given to all players no matter what somebody's record is."
Watch Warrington take on the Leeds Rhinos in the Super League live on Sky Sports 1 HD on Friday from 7.30pm.