Rangi Chase could return to St George Illawarra after missing out on a move to Hull FC
Rangi Chase is unsure where he will be playing next season after confirming a potential move to Hull FC is now over.
Last Updated: 10/10/12 1:01pm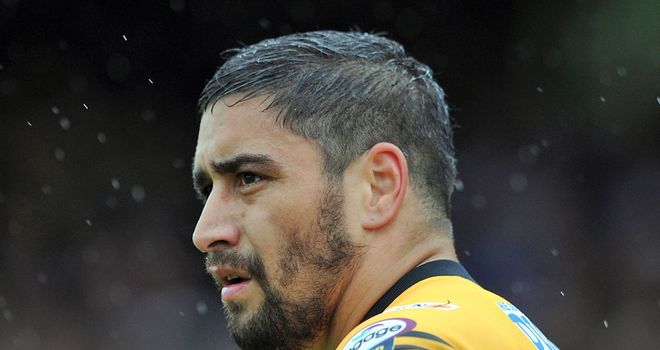 A proposed summer move to the Black and Whites fell through due to visa difficulties but New Zealand-born Chase, who caused a stir 12 months ago when he switched his allegiance to England, insists there is no guarantee he will remain with the Tigers.
Speculation has surrounded the 26-year-old half-back, who was Super League Man of Steel in 2011, ever since he was suspended by Castleford in June for breaching club rules on drinking alcohol before a match.
Chase, who has three years remaining on his contract, is in no rush to leave the West Yorkshire club, but with former club St George Illawarra Dragons keen on his services he could seal a shock NRL return.
"I was looking at going to Hull but it didn't work out," said Chase. "I wanted to go and Cas wanted me to go as well.
"There is still interest from St George and, if a deal comes, it's a bonus because obviously there is better money over there. I've got a young family now so I've got to do what's best for them.
"If the right deal doesn't come, I'm quite happy to be at Cas. I think Cas are happy for me to go. It's made to look like I want out of the club but I don't.
"I don't want to say they are trying to force me out but there is stuff happening there that not everyone is aware of. I don't know if they've got money issues."
Rumours
Chase described his drinking incident as "my little misdemeanour" but says the club's initial inaction followed by their failure to take decisive action added to his grief.
"It didn't get dealt with as professionally as I think it should have done," he continued.
"A lot of rumours circulated and it got worse and worse. What actually happened was bad enough but fuel was put onto the fire because it wasn't dealt with straight away.
"People were saying I'd been arrested and silly stuff like that. I had already let everyone down but people painted a picture of me that wasn't true and that hurt the most.
"It came to a point where I thought I was going to lose my job at Cas because they were pretty serious about the situation. That's when an opportunity came up and I had to get my plan B."
Chief executive Steve Ferres says Castleford will listen to offers, although Chase will only be allowed to leave if the deal suits the club.
"Any potential interest will be given due consideration and decisions will be made in the best interests of both parties," he said.