Super League: Hull FC coach Peter Gentle furious after Wakefield defeat
Hull coach Peter Gentle was furious after the 27-26 home defeat to Wakefield, especially at Trinity prop Justin Poore.
Last Updated: 02/07/13 9:48am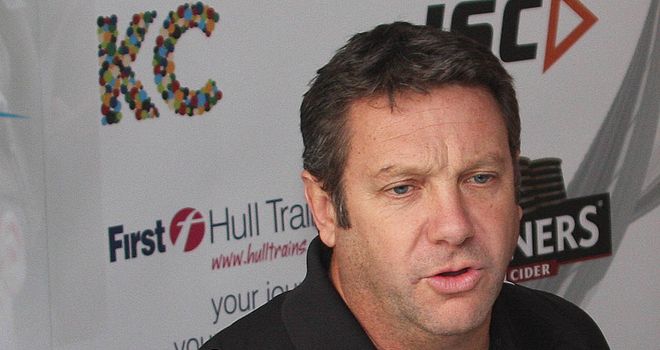 Poore, who has already served two bans in his first season in Super League, was put on report by referee Tim Roby for a 64th-minute "spear" tackle on Hull full-back McDonnell.
Gentle expects the Australian forward to be charged by the Rugby Football League's match-review panel on Tuesday and suspended for a third time.
"It's lucky that Shannon is not in the spinal unit," he said. "I thought it was disgusting. I am sure someone else will get the benefit of that."
Gentle could hardly conceal his disappointment at a third straight defeat which effectively ends his side's bid for a top-four finish.
Hull's 20-year-old centre sensation Ben Crooks scored a hat-trick of tries for the second successive match but it was once more not enough to save his side from a surprise defeat.
The Black and Whites thought they had snatched a point when centre Kirk Yeaman's 73rd-minute try tied the scores for a fourth time but Wakefield centre Lee Smith won it with a drop goal in a dramatic finish.
"I believe the effort is there but the execution is just nowhere near good enough," Gentle said.
"I'll give them a bit of slack because Jake (scrum-half Jacob Miller) has only just come in but our execution was disgraceful and we're compounding the problem with penalties.
Confidence
"It's extremely disappointing at the moment. I think we've lost a bit of confidence. I brought the senior players back but I expected more tonight and I don't think we got it.
"We're all frustrated, we've just got to continue to try to get it right. We need to stand up as a team."
Hull's misery was compounded by a calf injury to stand-off Daniel Holdsworth.
"We'll get him scanned (Tuesay)," Gentle said. "I'm not sure about the extent of it but I can't see it being short term."
Winger Peter Fox scored two tries for the Wildcats' and former Hull boss Richard Agar said: "On balance, I thought we probably had the best of the play.
"It was a scrappy game and the levels for both sides was not up up to where it should be but I can't fault my players' effort and commitment.
"In the second half we didn't commit as many errors, which was a feature of the game, and when we needed some plays our big players came up with them.
"Hull kicked better than us but we came up with a couple of kicks that won the game.
"We showed a lot of character and tenacity in defence. Our alertness probably let us own but our effort all-round was very good."