Danny Tickle admits Wigan worthy winners of Challenge Cup final
Danny Tickle admitted Hull had been "sloppy" as they crashed to a 16-0 defeat to Wigan in the Challenge Cup final.
Last Updated: 25/08/13 8:23pm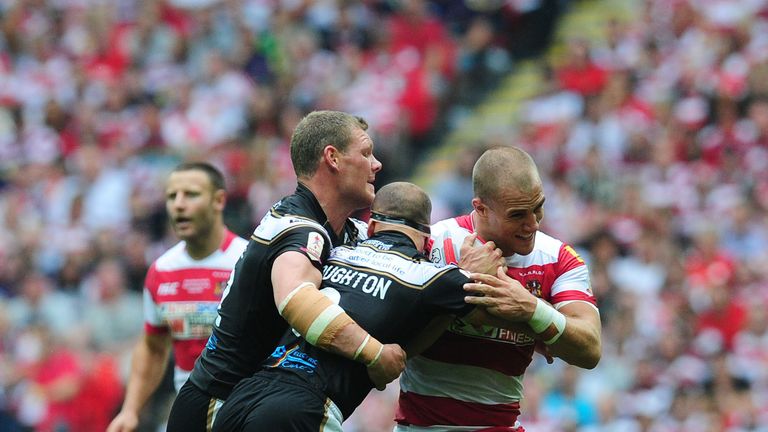 The back-rower was personally tasting defeat in the final for the third time, but he said the Black and Whites had been outplayed by the Warriors at a sodden Wembley.
Hull are still bidding for a first win at Wembley but it was the manner of their defeat that hurt the most, as they became the first team to be 'nilled' in a final for 24 years.
"It's a very disappointed changing room," said Tickle. "We know we could have done better on the day. I thought Wigan handled field position better than us. Their composure was better and we came up with some really sloppy errors.
"I wouldn't like to blame the conditions. It's the same for both teams. But if you ask any one of our players in that changing room if they could have done something better in that game the answer would have been 'yes'."
"It will benefit the young lads in the team. I'm moving on at the end of the year and you never know when you'll get another opportunity like this.
"We'll focus on these next couple of games, with Wigan again this week and then St Helens at home.
Buckle up
"We're in the play-offs and we've got to buckle up. We might have got a few injuries from that game but have got to get back on the horse next week and that's the type of games I think we'll learn from.
"If you want to be winning and playing in finals you have got to be better on the day and we'll definitely improve going into the semis.
"It will take the lads a few days to overcome the loss. You don't get anywhere sulking now.
"These are the types of game you want to be involved in and hopefully we can kick on and build into these play-offs, find a bit of form again and enjoy it."
Second rower Jay Pitts admitted: "It's not a nice feeling. The disappointment is that we didn't throw anything at them.
"We didn't really give ourselves a chance, we had to do that much defence. We've only got ourselves to blame, we turned the ball over a lot more than they did."