Super League: Hull FC owner Adam Pearson backs Lee Radford to succeed
Hull FC owner Adam Pearson has backed new head coach Lee Radford to bring silverware to the club.
Last Updated: 25/09/13 5:59pm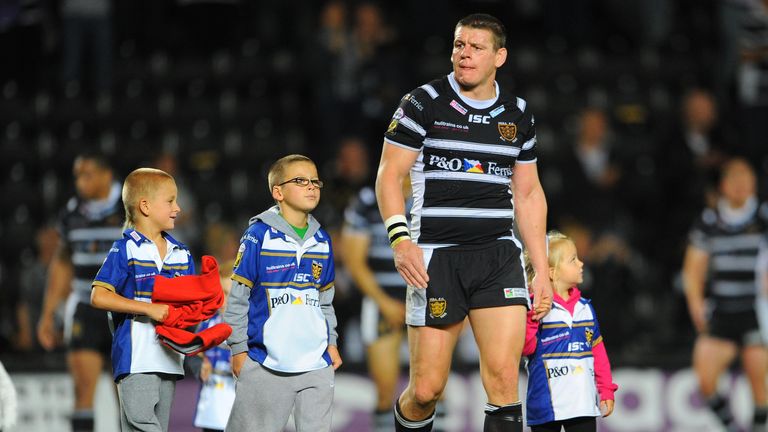 Former captain Radford replaces Peter Gentle, who parted company with the East Yorkshire side on Tuesday in the wake of their 76-18 thrashing by Huddersfield in the Super League play-offs.
Gentle had also led Hull to the Challenge Cup final only to see the team fall to a disappointing 16-0 defeat to Wigan at Wembley.
Pearson believed that while it was a difficult decision it was the right time to make a change, despite Gentle still having two years left on his contract.
"The easy decision - and the cheap decision - would have been to leave Peter in charge for another two years but I just felt we had taken it as far as we could under that regime," he told a news conference at the KC Stadium.
"I think we have progressed as a club over the last two years and I think sixth and a Wembley final is okay.
Consistency
"But there has definitely been a lack of consistency in our performances. Finishing sixth and losing at Wembley in the manner we did is not acceptable."
Pearson had set his former coach the target of a top four finish and reaching Wembley and stands by his decision.
"Everybody says I shouldn't have said we want to finish top four and go to Wembley but I just don't buy that at all," he said.
"I just want us to finish consistently in the higher echelons of the league and to be challenging for Grand Finals and Challenge Cups on a regular basis.
"I don't see why we can't have that as an objective. I think Lee is a big enough and man enough to accept that as a responsibility. But certainly we need to give him the time and the resource to be able to manage properly."
Pearson has also backed Radford, 34, and new director of football Motu Tony to ensure that the core of the squad is home-grown in the years to come with the squad likely to boast 11 academy graduates next season.
Home-grown
"We've got an academy with some unique talent coming through which we think needs nurturing and pushing into the first-team squad," he added. "We feel it's right at this stage to put Hull people in charge who understand those talents to bring them through.
"We can get to Wembley finals by importing from Super League and from Australia and New Zealand - we will continue to do that because we need quality, marquee signings - but the core of the squad has got to be from Hull.
"We believe the way that Wigan and St Helens have done it is our blueprint. We've now got the talent in our academy and the ethos now is about Hull management bringing through a unique talent pool from Hull."
Radford meanwhile confirmed that he had spoken to Gentle and the staff before accepting the role, saying: "I wouldn't have made the decision if I hadn't got their backing.
"I spoke to Pete yesterday to wish him well and his response was that he couldn't think of anybody better to go for the job, which says a lot about the bloke."