Super League: Hull boss Lee Radford pulls no punches after Widnes defeat
Hull FC coach Lee Radford admitted his side are in 'crisis' after they slumped to a 7-0 home defeat against Widnes.
Last Updated: 23/03/14 6:12pm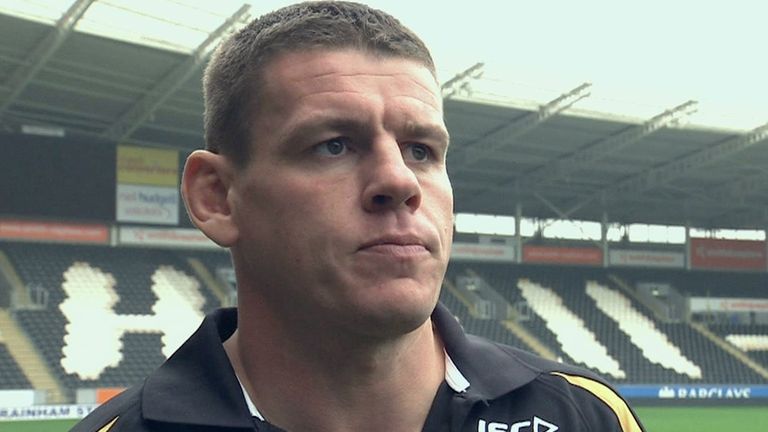 The Black and Whites put in a performance that was littered with handling errors throughout, and Radford delivered a damning assessment of their display.
"It is a crisis after that performance. You base your pre-season around not performing like that and turning efforts like that in. The full pre-season too - it was something we spoke about every day," Radford said.
"You don't want to turn performances like that in against teams we're expected to beat at home, especially with the calibre of squad we have.
"I don't want to be associated with those performances, and it's not a nice feeling at all. We've got a five day turnaround and when we watch the video - and have our first crisis meeting of the season - they've got to ask themselves why they put that shift in as individuals."
The Hull boss claimed some of his side slipped back into 'old habits' following the defeat, and questioned whether negative traits are embedded into the club.
"There's nothing to take out of that game whatsoever," he added. "From round one to five you think you're heading in the right direction, and you think you're doing the right things. You start to think everyone is buying into what you are saying and then you get that.
"The performance we spoke about pre-season that we want to get out of our DNA, they threw that in today. It's old habits from the same blokes and you wonder if it is ingrained in them. Who knows. They'll just continue to do what they have been doing for seasons."
Deserved victory
Widnes made it four wins from five in Super League XIX and head coach Denis Betts said: "I would have been disappointed if we'd lost the game, I thought we deserved the victory.
"We created opportunities and we worked hard to stop them scoring a couple of tries, too. They had some good chances to get points on the board, but we worked well together.
"Last week we played the conditions poorly against Leeds but we played them pretty well out there today. Our ball movement was a little bit more limited than it usually was, and our completion rate was a little bit higher than theirs. That helped us in the end.
"We've had 100 points scored against us in two years here. When you look at what we've done in the last two years at Hull FC, to come here and win with a zero on the scoreline - with just two or three changes in the team - is a massive pat on the back to the lads."