First Utility Super League: Lee Radford wonders where Hull's enthusiasm has gone
Hull head coach Lee Radford admitted his side were out-enthused by Wakefield as they let a 16-point lead slip.
Last Updated: 04/05/14 7:00pm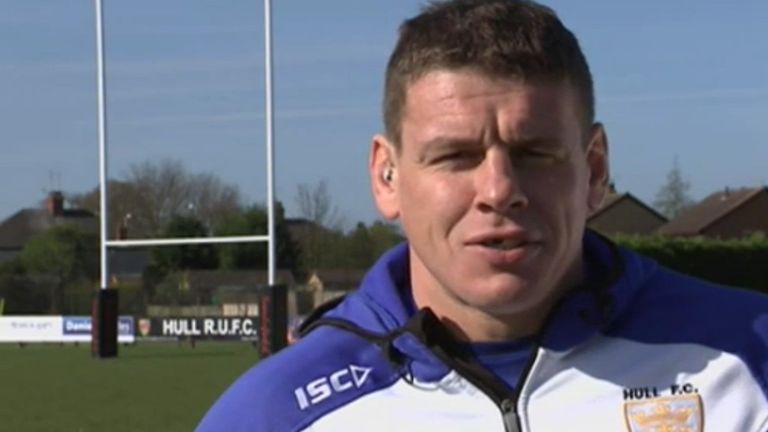 Radford felt an altercation which saw Jason Crookes and Chris Riley sin-binned played into Wakefield's hands and revealed Joe Westerman had suffered a suspected broken wrist.
Radford said: "Credit to (Wakefield coach) Richard Agar. He's got a bunch of blokes on the cheap, patched them together and come today and out-enthused us in every department.
"I don't know what the answer is. I could have gone blazing in there but I decided not to.
"You'd think the money invested would buy you some enthusiasm. As a group, energy wasn't there and as a coach I didn't get my team energised, obviously."
While Radford was left to reflect on another defeat in an inconsistent season for his team, opposite number Agar and his men tasted success for the first time since March 15.
Sticking together
Agar felt the result was his side's reward for sticking together during a tough run of fixtures.
"We feel we've been gradually piecing bits of our game together over the last couple of weeks," he said.
"I thought we pieced it together today for longer periods of time and I thought we won in spite of getting very, very little come our way in the second half.
"The first 10 minutes of the second half we were just blown away by some of the things that went against us. For our side to come back from that showed they certainly believed in each other."
The win moved Wakefield six points clear of the relegation zone, but Agar is not taking the club's Super League status for granted.
"It's going to be a tough year for us - we know that," he added. "We are a fairly new team.
"There's a lot of football left. We do think the next couple of months is a really crucial period for us but I think the win will certainly give us a boost."