Cup run delights Sinfield
Leeds Rhinos captain Kevin Sinfield admits he and his team-mates are enjoying proving their critics wrong in the Challenge Cup.
Last Updated: 25/07/11 3:22pm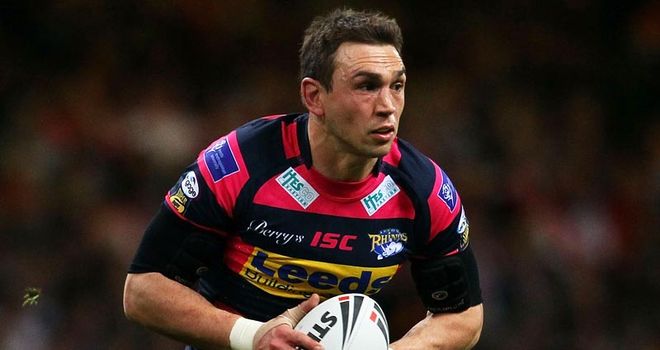 Record-breaking Leeds captain Kevin Sinfield has revealed that he and his team-mates have used the Challenge Cup competition as an opportunity to silence their doubters.
The Rhinos had been written off as an eminent force in some quarters after slumping to seventh in Super League and putting themselves in danger of missing the play-offs.
Coach Brian McDermott has also been in the firing line, but the Rhinos proved they could still salvage plenty from the season by reaching the last four of the cup with victory at Hull on Sunday.
The Rhinos overturned a 16-6 deficit to win 38-22 with a strong second-half showing and will now take on Castleford for a place at Wembley.
Criticism
Sinfield, who became Leeds' all-time leading goalscorer during the match, said: "When the season goes like it has - we have under-achieved and been inconsistent - I think you expect some criticism.
"When you play for Leeds, if you are not up to scratch and winning trophies, it is part and parcel of the job to be criticised.
"We are aware of some of it and unfortunately a lot of it has been aimed at our coach.
"We are a tight-knit group anyway but if anything it has brought us closer together.
"The group are definitely behind Mac and it has pulled us all together to work harder and be better every week."
Leeds have won four Super League titles since 2004 but their recent cup record is less impressive, having not claimed the trophy since 1999.
The manner of defeat in last year's final, when the Rhinos were crushed 30-6 by Warrington, still rankles and Sinfield would like the chance to make amends.
Tough game
Sinfield added: "I think Wembley was embarrassing for us last year, a massive disappointment for all of us involved.
"We haven't talked about Wembley that much this year.
"We haven't been consistent and our focus has been to try to put in some decent performances and get us back to where we need to be.
"To come up against our rivals in Cas will be nothing short of another really tough game.
"It is important we focus on that first and foremost and if we get through then I suppose we have to talk about Wembley."