Sinfield all set to go again
Leeds captain Kevin Sinfield insists he is ready for another gruelling season ahead of Friday's opening fixture against Hull KR.
Last Updated: 01/02/12 6:32pm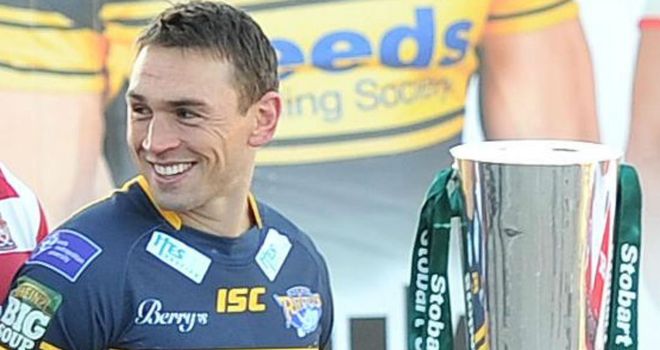 Leeds captain Kevin Sinfield insists he is ready for another gruelling season ahead of Friday's opening fixture against Hull KR.
The 31-year-old stand-off featured in every week of the last campaign, steering the Rhinos to glory in the Grand Final before playing a further six times for England.
In total he made 42 appearances in 2011, with his last outing coming in November when he lined up against Australia at Elland Road in the Four Nations final.
However, Sinfield has since had enough time to recharge his batteries and is now all set to make his 400th appearance for Leeds when they host Rovers at Headingley.
"I would love to play another 42," he said at the official launch of the new Stobart Super League season at Old Trafford.
"That's the best part of the job for me, the more the better. I had a decent holiday and couple of weeks off before Christmas.
"I've had a good six weeks of training and I feel good. I'm the type of person who can't keep still for too long. If they had said you need to have more time off, I would have struggled with that.
"I've not had a game under my belt yet but the last couple of weeks I've started to sharpen up."
Influential
Sinfield was influential in helping the Rhinos recover from a slow start to peak at the right time, leading them to play-off wins at Huddersfield and Warrington before they once again got the better of St Helens at Old Trafford.
He then played a key role for England in the Four Nations, including turning in a man-of-the-match performance in the crucial victory over New Zealand at the KC Stadium.
Sinfield is still determined to keep improving his own game, while he insists Leeds are also aiming to be better than they were last year.
"I'd love to improve my own performances," he said. "When you're happy with where you're at, it's probably time to finish.
"I still think there are some things in my game I can work on and help the team to be better. I think we all have some improvements in there.
"I don't think we're completely happy with last year. We got the last six weeks right but we weren't consistent enough.
"There are some things we need to put right. There is a lot of hunger and determination in our group.
"If we can get off to a decent start, get a bit of momentum behind us, hopefully we can be better than we were last year."
Sinfield's debut for the Rhinos was against Sheffield in August 1997 and he made his 399th appearance in their triumph over Saints last October.
"If you'd asked me after that first game if I'd be making 400 appearances for the club, I would have been very shocked," he added. "I'm obviously very proud and delighted. It's a great club and to have been there for that length of time is a great honour."