Moore the merrier
Leeds' new prop Richard Moore talks to Sky Sports about getting a second chance with the Rhinos.
By Rob Lancaster - Follow me at @SkySportsLanny
Last Updated: 02/02/12 7:27pm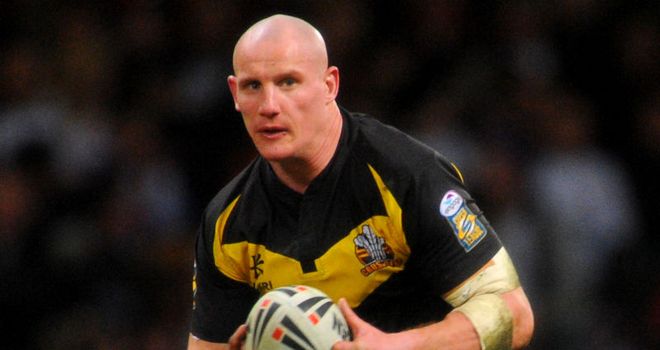 On Friday night Leeds will begin the defence of their Super League crown at home to Hull KR. For almost all of the squad it will be the start of another long, hard season. For Richard Moore, however, it will be the end of a long wait.
A hard-running prop who has had his fair share of ups and downs on and off the field, Moore must've thought his time had come and gone with the Rhinos.
Signed at the age of 17, the Keighley-born forward spent three years at Leeds but never quite made it into the first team. Bradford took him on in 2001 and since then he has played for a further four clubs, London Broncos, Leigh, Wakefield - where he made over a century of appearances - and, finally, Crusaders.
It seemed he was finally ready to settle in north Wales when signing a deal through until the end of the 2013 campaign, only for the rug to be pulled from underneath his feet by the club's shock decision not to renew their licence.
Moore, like the rest of Iestyn Harris' squad, was suddenly left in limbo. The safety of that long-term deal with Crusaders had disappeared in a flash, meaning, once again, he'd be on the move.
Interest
There was some interest in his services but once Leeds put in the call there was nowhere else he wanted to play. So, with a decade gone since he headed out the Headingley exit, the 30-year-old will finally get the chance to represent the Rhinos.
"I'm really enjoying it - the lads have made me feel really welcome," he told Sky Sports.
"I started here at the age of 17 but didn't get an opportunity to play in the first team. When that opportunity finally comes around, I will be really proud.
"To be honest I never thought I'd end up back here. I'm so proud to be here and looking forward to getting an opportunity. When it comes, I want to take it with both hands.
"I spent three years here first time around before moving to Bradford. I played with Rob Burrow, Kevin Sinfield, Danny McGuire and Jamie Jones-Buchanan (in my first spell), so quite a few of the same faces are still here.
"When I've watched them in finals I always thought that may be that could have been me out there. Hopefully, now I will get my chance to be a part of something."
The reigning Super League champions handed Moore a three-year contract, something even he admits will have surprised a few. However, he fully intends to reward the faith shown in him by his new employers.
"I really respect Leeds for giving me a three-year deal," he said. "I few people might have raised an eyebrow at the time; perhaps there were some questions about my age.
"But I've got a lot to give. Touch wood, I've got no niggles and I feel fresh, as fresh as I felt when I was 17.
"I'm eager to get out there. Coming to a big club like Leeds...I know the departures of Keith Senior and Danny Buderus freed some money up, and a lot of people might ask 'why aren't we signing a big-name player, instead of Richard Moore?'
"But I'm happy for people to think like that. I'm excited about proving people wrong."
Forward-thinking
Moore's first task will be to force his way into a Leeds pack that finished last season by helping shatter St Helens' dreams of Grand Final glory again.
Darrell Griffin has also arrived from Huddersfield to add even more strength up front and with Luke Ambler returning from a loan spell at Harlequins, competition for places will be fierce amongst the group of forwards.
"We are defending champions, but now it's all to play for again," Moore stated at Leeds' press day ahead of the new campaign.
"Hopefully we can get off to a better start than we did last year. Leeds started slow, but they peaked at the right time."
As for his personal goals, he's just keeping things simple, adding: "As I look at it, I see that there are six players are in front of me because I've just arrived. I'm just concentrating on working hard and doing all the right things.
"Everyone gets a chance, it's whether you can take it or not."
Listening to Moore it's hard to see how he won't seize the opportunity at Leeds. After all, he's waited long enough for the chance to come along.