Morley's fire still burning
Adrian Morley is preparing for yet another tilt at glory and the veteran forward has no plans to hang up his boots any time yet
Last Updated: 22/08/12 4:53pm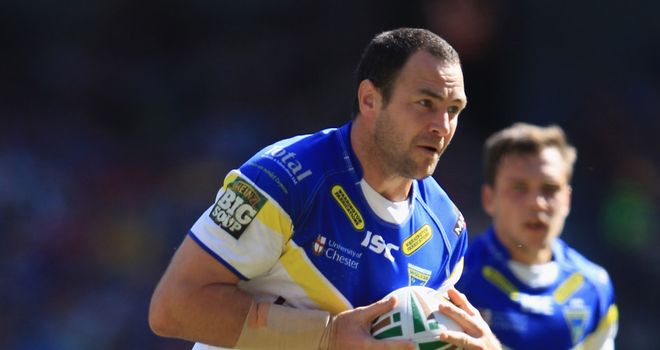 Adrian Morley is preparing for yet another tilt at glory and the veteran forward has no plans to hang up his boots any time yet.
The former England and Great Britain prop returned to England six years ago to take up a four-year contract with Warrington, having won silverware in both hemispheres with Leeds, Bradford and Sydney Roosters.
Last year he led Warrington to their inaugural Super League leaders shield and on Saturday hopes to lift the Carnegie Challenge Cup with them for the third time in four years.
The 35-year-old Morley will make his 150th appearance for the Wolves against Leeds, the club where he launched his remarkable career back in the 1994-95 winter season and with whom he was a member of their last Challenge Cup-winning team in 1999.
"I remember it like it was yesterday but a lot has happened between then and now," he said. "We had a 10-year reunion in '09 and it was great to see some of those boys again.
"It's quite amazing when you think about it and the fact that it was at the old Wembley makes it pretty special.
"I've been fortunate that at every club I've been at I've won something major. To get to Wembley three times in four years is a major achievement. It's been a fantastic swansong really."
Morley, who last November made his 50th international appearance in the Four Nations final against Australia to become the most capped England player in history, was recently given a new contract by his club for 2013.
That means playing beyond his 36th birthday and he says he has not given up hope of extending his career even further, despite an injury-disrupted campaign so far in 2012.
"It's been quite a frustrating year for me in terms of injury," said Morley, who made his Wolves debut in a 16-10 win at Wigan in 2007 and was appointed captain by coach Tony Smith a year later.
"I've always played at a high standard but injuries this year have not allowed me to do that.
"You want to play well every year but in particular the last year of the contract to prove not only to the club that you are worthy but to yourself that you can still compete at the highest level.
"But the neck problem has cleared up, I had another little operation on my eye and I've been playing some good stuff again.
Faith
"The club have shown faith in me and we've got the deal signed. Tony is a good judge of players' worth and he feels I've got another year in me and so do I.
"Hopefully, I can have a big end to this year and I'm looking forward to next year already. It's too early to say whether that will be my last. I don't want to put a time-frame on anything really.
"I didn't think I could carry on this long if I'm being perfectly honest but, with all the training techniques and sports science, players can play a bit longer.
"But I've got a healthy fear of playing on too long and not doing myself justice. I want to finish at the top.
"I know I've got next year in me and I'm not looking too far beyond that. I'll probably sit down next year with Tony. I trust his judgement and, if he feels I'm not doing my job, I'll hang the boots up.
"If I'm still enjoying it - that's the number one criteria for me - and I still feeling I'm doing my job, then I'll keep cracking on."
Morley, who won his only Cup final losers' medal with Leeds against Bradford at Murrayfield in 2000, insists the hunger within the Warrington team has not been satiated by their recent Wembley success.
"It's human nature," he said. "When you have something so great and wonderful, you just want more and more.
"It's like a drug. We got success in '09 and that was inspiration and motivation for the year after.
"We were really disappointed to miss out last year and I think that drove the boys on this year. The hunger is definitely there."