Burrow - Roar Rhinos on
Rob Burrow has appealed to fans to 'get out there and support us' ahead of Leeds' crunch clash with Wigan.
Last Updated: 28/09/12 2:44pm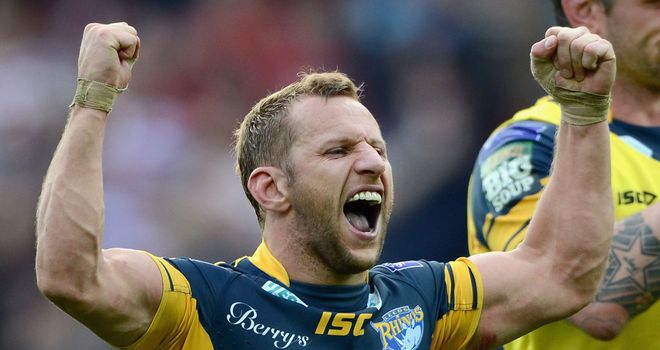 Leeds scrum-half Rob Burrow has appealed to Rhinos fans to 'get out there and support us' ahead of Friday's crunch clash with Wigan.
The defending champions take on this year's Super League table-toppers at the DW Stadium with a place in the Grand Final up for grabs.
Burrow admitted the Rhinos fans were like a '14th man' for Brian McDermott's team and he appealed for supporters to make their way across the Pennines and support the side.
"If you're not sure whether to go tonight, get out there and support us," Burrow told Sky Sports News Radio.
"The more Leeds Rhinos fans we can get there the bigger it is for us and the better chance we have because it's the 14th man.
"And when you can hear the Leeds crowd getting behind your back, there's nothing else - what you want to do then is play well and perform well and so we do appreciate your support."
McDermott's team upset the odds in 2011 by becoming the first side to secure the title from outside the top four and Burrow believes they can take heart from this.
"We didn't want to be in this situation (of finishing fifth again) but the fact that we are, you've got to take a little bit from last year as in the belief we can do it from fifth and any team can," he said.
"So we don't want to dwell on last year but we're in similar situation so like I say if we can replicate that, that would be brilliant."
Tough battle
Leeds beat Catalans Dragons 27-20 last time and Burrow admitted it had been a tough battle.
"To go out to Catalans, to a place where they've only lost one all year needed a big, big performance from us. People watched that game, the intensity was there and it was a battle right up to the 80th minute, typical of play-off rugby and something we benefitted from and enjoyed."
Burrow believes playing every week in the play-offs has given the Rhinos momentum heading into the clash with Wigan, who have not featured since 14th September.
"I prefer to play every week," he said. "The fact that we've hit the ground running and are playing week by week is something which I am quite happy with.
"You don't want to be at fifth but the fact that they play every week keeps the momentum going."
Wigan chose to take on the Rhinos ahead of Warrington but Burrow did not take this as a slight.
"We expected it," he said. "I think like most clubs, they just picked the team that was lowest ranked and it was us and it has been us for the last couple of years.
"So not shocked, you're either going to go away to Saints (St Helens) or you're going away to Wigan.
"So there's no easy games and opposition at this stage is irrelevant because they're all intense games and you're playing the best teams out there. So we don't really care who picks us and we expected to go to Wigan."
McGuire ban
Danny McGuire was placed on report by referee Ben Thaler for a high tackle in last Friday's win over the Catalans, actions that resulted in a one-game ban.
Burrow admits they will miss McGuire but he believes the Rhinos will still be a handful if they are on their game.
"He's a vital key in what we do but we have got a strong squad. People are shuffled around a little bit and we'll try our best to let him play in that final.
"The fact that we're playing Wigan is a massive, massive task. We're underdogs and that's fine - we're just going to concentrate on what we can do well.
"If we play anywhere near our best then we're always in with a shout and that's if one or two of our players are missing.
"If we all put out there and give everything we do take some beating."
Listen to the full interview with Rob Burrow on Sky Sports News Radio.