Leeds Rhinos captain Kevin Sinfield says Brian McDermott is the best coach he has ever worked under
Leeds captain Kevin Sinfield says current Rhinos boss Brian McDermott is the best coach he has ever worked under.
Last Updated: 29/09/12 1:43pm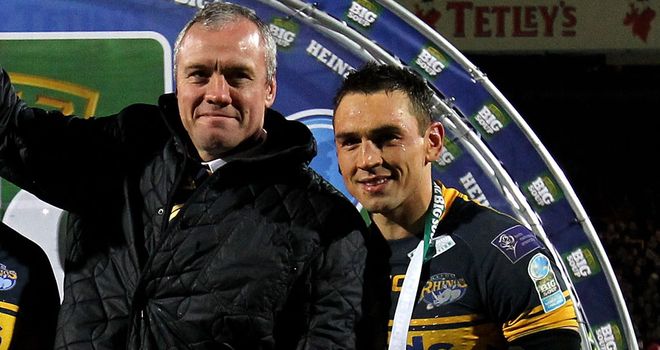 The Rhinos will get the chance to defend their Super League crown at Old Trafford next Saturday after a 13-12 win over Wigan saw them reach the Grand Final for a fifth time in six years.
Sinfield was the hero on the pitch with four goals and a drop goal but he believes much of the credit should go to McDermott, who has guided Leeds to both the Challenge Cup final and the Grand Final in each of his first two seasons at the helm.
"He's certainly the best coach I've had," said the 31-year-old, who has worked under the likes of Tony Smith and Brian McClennan at Headingley.
"His mix of man-management and his game plan is second to none. I think since Brian Mac has been in charge, we've been in every single final so far.
"I love playing for him. I can't praise him enough, I've so much respect for him and I hope he's here for a very long time.
"He needs to take some credit for what he's done again, especially if you look at how many bodies we've got available.
"We've probably got one of the smallest squads running and add to that the amount of games we've had to play. It's just been relentless for the group.
"We've been on our feet and playing every weekend now since the end of January and hopefully we've got one more big effort in us."
Full-strength
Leeds are expected to be at full-strength as they bid to land a fifth Super League title in six years with Danny McGuire set to return after a one-match suspension.
Sinfield, whose side were outscored by Wigan by two tries to one, admits the Rhinos lacked the creativity and penetration of the half-back on Friday night.
"We were disjointed at times with the ball without Danny in the middle and it did affect us. But the guys really dug in," Sinfield said.
"Wigan are a great team so to beat them on their own patch is huge for us. The goal was to stay alive for another week and thankfully we've done that."
He added: "To have Danny back is huge, especially with how he's played this year. There is no other player in the world who can give us what Danny gives us.
"The triangle of myself, Danny and Rob (Burrow) works really well, although I thought Shaun Lunt was huge for us with the minutes he played.
"But the three of us have done it for 13 or 14 years now and you take one of us out and it makes life difficult, certainly from an attacking perspective.
"To see Danny so happy after the game was brilliant. But we've still got a job to do. We wanted to stay alive for another week, we aren't ready for it to finish yet. We've given ourselves a huge opportunity for next week."