Winger Ryan Hall will give his all to help Leeds Rhinos win Saturday's Grand Final
Ryan Hall has vowed to push himself to the limit one final time as Leeds Rhinos bid to retain the Super League crown.
Last Updated: 03/10/12 9:47am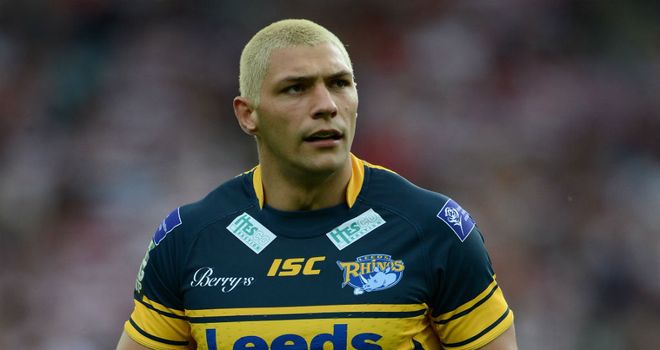 Of the 172,800 seconds on offer in domestic rugby league this season, Leeds winger Hall has not missed a single one. Not that he is complaining.
The 24-year-old, nicknamed by his club as 'WBW' which stands for 'world's best winger', has featured for the duration of the 36 games available to a side which has competed in the World Club Challenge, the Challenge Cup Final and the Super League semi-finals.
And, as a result of Leeds' thrilling 13-12 win over Wigan last Friday, Hall - who also played for England in the summer - is 80 minutes and a Grand Final away from a clean sweep of game time for the 2012 season.
It is some achievement in an era where talk concentrates on the demands placed on players but Hall is not alone, with Leeds captain Kevin Sinfield and team-mate Zak Hardaker also going the extra mile.
Hall, though, says he is ready to put his body on the line one more time in pursuit of what would be Leeds' sixth Grand Final success in nine years.
Looked after
"Personally I've played in every single game, every second, but I play on the wing!" he said. "We get looked after in between games, so I'm fine.
"I'm a professional sportsperson and it's part and parcel of what we do. There's not just me, there's Kevin Sinfield and he does a lot more than me in games and I respect that from him."
Despite being happy to turn up and put in the hard yards week in, week out, Hall would have rather be heading into Saturday's meeting with Warrington with a week's rest behind him.
But, as the fifth-ranked team in the competition, the Rhinos have again had to go the distance by playing every week in the play-offs, with the last game being at the DW Stadium, when Wigan handpicked them as opponents via the controversial 'Clubcall' system.
For the second successive year, though, Leeds made a mockery of that system, having beaten Warrington by the same means a year ago.
Week off
"I'd rather finish first and have the benefit of having a week off. Two weeks before the final, that is beneficial," he continued.
"We've done it like we did last year, we had to go away to the side leading the competition, and we did it that way again. Each club are entitled to their opinion and Clubcall has to be done.
"Over the last two years both teams have said they would pick the lowest-ranked team, which is sensible. If we were in that situation we'd do the same thing, it just so happened that we finished there twice.
"If anything, Wigan would have been silly to pick Warrington, who finished second and beat them during the season."