Super League Grand Final: Leeds Rhinos win over Warrington would give Jamie Peacock eighth title
Jamie Peacock says winning his eighth Grand Final at Old Trafford on Saturday would be the sweetest one of them all.
Last Updated: 06/10/12 10:19am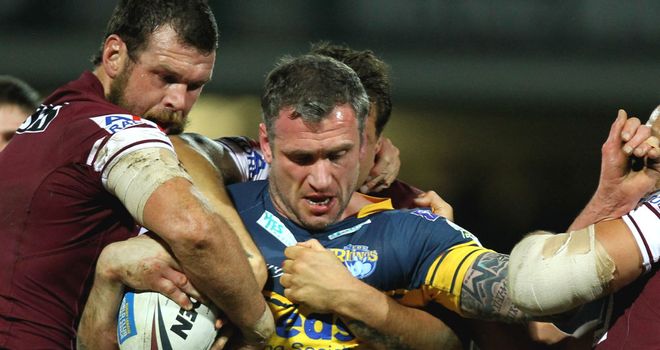 The former England captain will break the appearance record of Leon Pryce he equalled 12 months ago when he runs out for his 10th Grand Final and says victory this time would give him the most satisfaction.
"I think it would be a bigger achievement this year," said Peacock, who was in the Rhinos team that made history by winning the title from fifth place in 2011.
"We had to peak for the World Club Challenge which is difficult to do at the start of the year. We did that and obviously we got to the Challenge Cup final and then the games we've had to play to get to Old Trafford have been more difficult.
"I think it's been a more difficult journey so, if we were to go on to win it, it would definitely be up there."
Peacock has played a key role in his club's now traditional late-season surge, arguably playing his best rugby since announcing his retirement from the international game, and he was recently described as "a freak" by his coach and former Bradford team-mate Brian McDermott.
Key role
"It's nice of Macca to give me a compliment but I'd like to think that what I do is through hard work and not freakish ability," Peacock said.
"It's just down to having a good attitude and wanting to work hard. I am enjoying playing at the moment, that's the big thing. I'm probably a bit more relaxed about things and my knee's not hurting me anymore.
"And it's good to know that this is the last game of the year for me. I think captaining England carries more responsibilities than just playing well.
"It's a five-week, intense programme and to keep consistently doing that is difficult at the end of the year, especially with the success that Leeds have had. I think having that off my mind has been good for me."
The first three of Peacock's Grand Final wins came with Bradford but it is the Rhinos who have made Old Trafford their second home as they prepare to make their seventh visit in nine years, looking for a sixth triumph.
Wolves debuts
Warrington, on the other hand, are the Grand Final novices, with only captain Adrian Morley, prop Garreth Carvell and hooker Mickey Higham having experienced the unique atmosphere of Old Trafford.
However, they have proven big-match experience after winning at Wembley three times in four years, twice against the Rhinos, and they are clear favourites to become only the third club to do the double in the Super League era.
Half-back Richie Myler, one of at least 14 Warrington players making their Grand Final debuts, says his team will be wary of Leeds' proud record at Old Trafford.
"We're the only team this year that can do the double now but we're under no illusions about how tough it's going to be," he said.
"Leeds have a proven track record of playing well at this time of the year at this ground. They've got some big key players so we know we're in for a tough test. It will be totally different to Wembley."