Leeds coach Brian McDermott proud of his Rhinos after retaining Super League title with win over Warrington Wolves at Old Trafford
An emotional Brian McDermott heaped praise on his Leeds side after they retained the Super League title at Old Trafford.
Last Updated: 07/10/12 3:57pm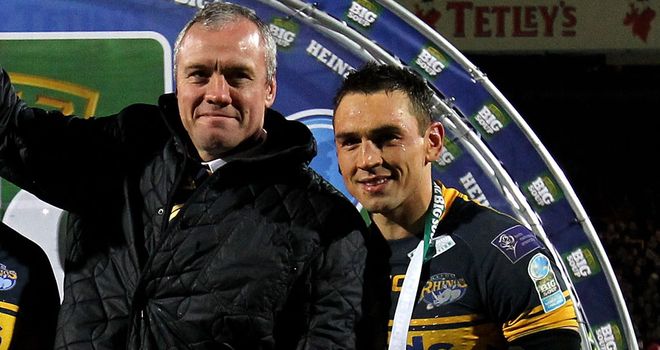 The Rhinos retained their title at Old Trafford to be crowned champions for the fifth time in the last six years, also gaining revenge in the process for losing this season's Challenge Cup final to the Wolves.
McDermott's side lifted the trophy having finished the regular season in fifth position for a second successive campaign, a stunning achievement by the players that led to their boss calling for them to be honoured with statues.
"We created history last year in doing it from fifth, but the route we've come through this year... not just the play-offs but we've had some games where you couldn't work out what we were trying to achieve," he told Sky Sports.
"There has been such an amount of pressure on every single game we've played. When Leeds lose, everyone knows about it. When we win in style, everyone knows about it. The pressure on the players to come up with the goods is immense.
"You ought to make statues out of each and every one of them - they are brilliant.
"I can't say enough about the players, and also the staff. It's unbelievable working with them. They're under pressure all the time and they handle that. When the going gets tough they come into their own."