Danny McGuire insists the Leeds Rhinos wanted to win the League Leaders Shield
Danny McGuire has rejected suggestions Leeds Rhinos did not give their all in the quest for the League Leaders Shield.
Last Updated: 12/10/12 11:13pm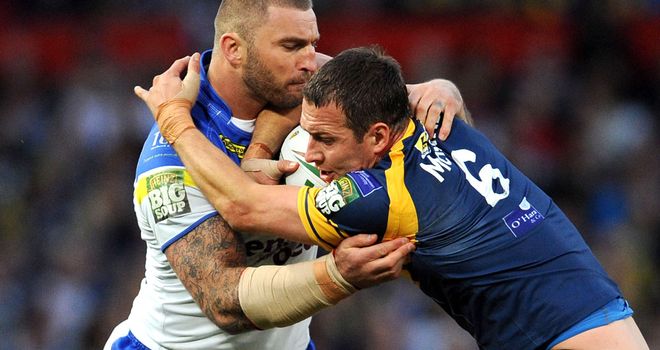 The Rhinos claimed the 2011 Super League crown and started the season in fine form with a 26-12 win over NRL winners Manly in the World Club Challenge.
However, their season failed to live up to expectations with home and away defeats to the likes of St Helens and Huddersfield while they also lost away at Hull FC, Wakefield and Bradford.
Leeds finished the campaign with 16 victories from their 27 outings, results that left them fifth in the table, although they hit the ground running in the play-offs upsetting Catalan and Wigan before getting the better of favourites Warrington at Old Trafford.
"We wanted to finish as high as possible and it just happens that we finished the same as last season," he told the Yorkshire Evening Post.
"It is hard, we had to get ourselves up for a big game at the start of the year against Manly [in the World Club Challenge] and it is so hard to maintain that level.
"I thought we came up with some good performances early on and it's tough to maintain that early form all year.
"There are going to be lapses. There have been ups and downs and some performances when we've really questioned what we've been doing, but we just stick together.
"That's the big thing. We believe we have got the team and the coaches to come through it. We have shown again we can do that and I'm really happy to be part of it."
Opinion
Criticism has been aimed at the play-off system following Leeds' second title from fifth place and McGuire insists Leeds would have preferred to be in the top two if possible.
"Everyone has their own opinion, but the format is what it is and everybody knows the play-offs are there and you've got to finish in the best possible position," he added.
"It is easier to get to the final from in the top-four - you don't have to play two away games. We'd prefer to be in the top-two, but we don't mind any challenge.
"We had a tough route this year. People don't give Wakefield enough credit, they'd won seven straight when we played them and they were on fire.
"That was a really strong performance from us and then to go to Catalan and Wigan and win, it doesn't get much better than that. It shows the character in the team. People can say what they want, but I think we deserve it."