England international Luke Burgess insists he did not fail with Leeds Rhinos
Luke Burgess believes joining Souths was the best move he ever made while rejecting talk he failed to shine at Leeds.
Last Updated: 27/10/12 12:02pm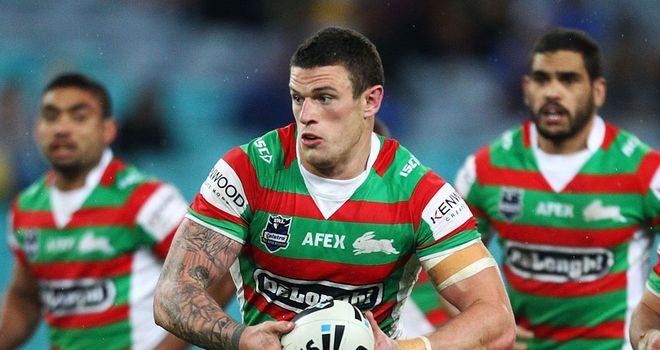 The Dewsbury-born forward made 81 appearances for the Headingley Carnegie side, although only 11 of those were from the start.
The likes of Jamie Peacock, Kylie Leuluai and Ryan Bailey were all ahead of Burgess in the pecking order at the Rhinos and he feels he now benefits from getting the chance to start more often with Souths.
The 25-year-old, who has won a place in the England squad for their Autumn Series games against Wales and France, is pleased things have worked out in the NRL.
"Someone said to me before about how I struggled at Leeds but I don't think that was true," Burgess told the Yorkshire Evening Post.
"Playing off the bench rather than starting was maybe the case and it's been nice to be more of a regular fixture with Souths. It's definitely been fantastic for me and probably the best decision I've made in my career so far.
"I'm really enjoying my football. I have had more opportunity at times to play and prove myself. I don't know if it'd have been different if I'd have stayed at Leeds and I'd have had these same opportunities (with England).
"It's really hard to say but it has just worked out really good for me at Souths."
Influence
Peacock's retirement from international action means Burgess will not play alongside his ex-Rhinos team-mate again, although his influence during their time at Leeds is something he will always retain.
"JP was massive for me back at Leeds," he added. "Everyone knows he's a great leader and it was good for me to have him there as a front-row myself.
"He's done so much in the game and, now he's retired from international football, I'd love to follow in his footsteps. This is a massive chance for me to play well and try keep my spot in the England squad.
"After this tournament I've got to go back to Australia, try and have another consistent year with Souths and hopefully put my name forward for the 2013 World Cup.
"When you grow up as a kid you always want to reach the pinnacle of your sport and to play in a World Cup for England would be the ultimate for me. It's quite an exciting thought but there's a quite a lot of time to go yet."