Kevin Sinfield says that success breeds success as Leeds go in search of even more glory in 2013
As Leeds prepare to defend their Super League title, Kevin Sinfield eyes an even better year.
Last Updated: 30/01/13 4:30pm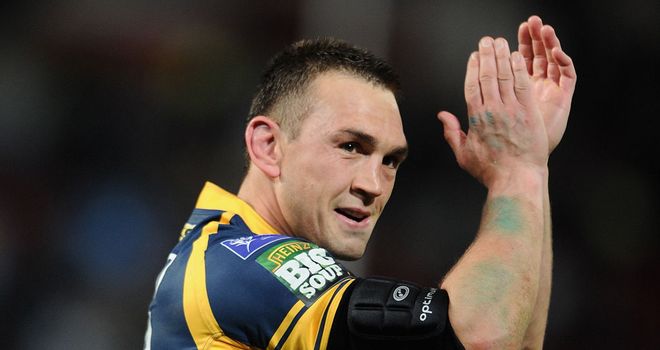 They repeated that feat in 2012 and won the World Club Challenge by beating Manly 26-12...however, Rhinos' skipper Kevin Sinfield wants more.
"When you look at the last two years where we have won the Grand Finals and made the Challenge Cup finals - we are still not the team we want to be," Sinfield told skysports.com.
"We have not performed consistently and we would like to do a lot better than come fifth in the table. At Leeds we just believe that we can be better - it's part of our culture and part of the environment.
"I think if you have tasted success and won trophies then you get a bit greedy. Winning the Grand Final gets better each time. There is always a desire to improve each year - individually and as a team."
And the England captain can't wait to get the campaign underway. "We cannot wait for the season to start," he said.
"We have trained extremely hard and we are playing some warm-up games now. It's just been fantastic to be out on the field. We are looking forward to the first game against Hull - I saw Gareth Ellis a few days ago and we are both looking forward to getting stuck into each other.
"I didn't want the season to end last year so this could not come quick enough. We have had a good build-up and have signed some good players with some promising youngsters in the squad, too. It is a great environment to be in at the moment, there's a great mix."
With the game getting ever more physical and the season longer, Sinfield reckons rotation will be the key to success in 2013 and says Super League sides are taking note of what the Premier League football teams are doing.
"We saw Warrington rotate their squad more than anyone last season and I think we are very close to doing that as well," said the 32-year-old.
"We have looked at what the Premier League has done - the likes of Chelsea and Manchester United being able to rotate players. I think physically it is what Super League teams will have to do.
"At Leeds we have always had an environment where young lads have been promoted and I think that is really positive - it freshens the team up. I am a product of that myself and being able to develop our youngster is as vital as being able to cherry pick top internationals from around the world."
Experience
The likes of Penrith's Mitchell Achurch and Gold Coast Titans player Joe Vickery will be bringing their experience to the Rhinos this season, however Sinfield says that they have not been picked just because of their NRL experience.
"Leeds are pretty stringent on how they recruit - they don't just look at how they play on the field, but investigate the background of the player and whether he will fit into the Leeds ethos. It's not just about what they can do on the field, it's about what he can do off the pitch as well."
Sinfield is also expecting some young stars to shine this season: "I'm excited about Kallum Watkins," he said.
"His form last year, what he did with England and the work he has put done in the off-season...he is going to be a star.
"Other players to watch out for are Zak Hardaker, Stevie Ward and a player who has been around a few years and that is Chris Clarkson. I don't want to put too much pressure on them but these four in particular are going to have fantastic years."
Concerns
Youth development is important to Sinfield and he hopes that the powers that be start to look at protecting the future of the sport in England by investing in local young talent.
"My concerns are over the next ten years. I don't think that at this moment time the right thing to do is to raise the salary cap - I would love it to be raise but it's not the right thing. We have seen a few clubs struggle in recent times.
"However my concern is that if we don't then we lose our youngsters to rugby union and to Australia. People with smarter brains than I have, need to think about our talent coming through and how to hold onto them.
"Over the next two or three years I think we will see a handful of juniors go out and play in Australia - we need to be careful and make sure that we protect the future of our sport."