Leeds Rhinos coach Brian McDermott concerned by shoulder charges
Brian McDermott believes players are at risk of serious injury unless something is done to deter shoulder charges.
Last Updated: 13/02/13 5:43pm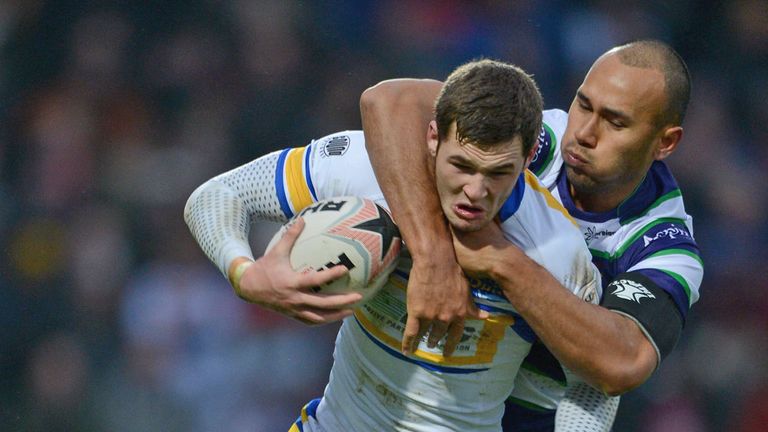 On Sunday, Rhinos full-back Zak Hardaker was knocked out after being subject to a reckless tackle by Castleford's Rangi Chase, who was subsequently banned for two matches and fined £300.
Catalan Dragons prop Julian Bousquet has also been suspended for four matches for a challenge that put Salford scrum-half Theo Fages in hospital, while Widnes' Ben Cross received a one-match ban after being red-carded for a reckless tackle on St Helens full-back Paul Wellens at the weekend.
In December last year, the Rugby Football League opted not to follow the lead set by Australia's NRL in banning shoulder charges, but McDermott - who initially agreed with the decision - says it may be time to reconsider.
"At the time, I agreed with keeping shoulder charges in because I didn't see the problem," said McDermott. "But if this is becoming acceptable to a degree that you get it wrong and only get a two-game ban, I'd like to change my judgement and ban it. It could result in some serious injuries to players.
Deterrent
"The problem is the deterrent. If you get it wrong you are going to really injure somebody.
"We play an incredibly tough sport and the people who do play it are incredibly tough. What we ask them to go through, there aren't many people in the world could do. But there comes a time when you have to think the situation has become a bit silly.
"For me, the punishment handed out is not the issue - I'm not bothered how many games the offending player gets banned for - it is at the time the bloke gets injured which is the big issue because it is putting blokes into these situations when they can suffer serious injuries.
"Zak Hardaker was knocked out cold before he even hit the deck. It is a dangerous, dangerous thing."