Super League: Leeds Rhinos' Kevin Sinfield has agreement to stay for as long as he wants
Kevin Sinfield has an agreement with Gary Hetherington allowing him to play for Leeds for as long as he desires.
Last Updated: 01/08/13 7:47pm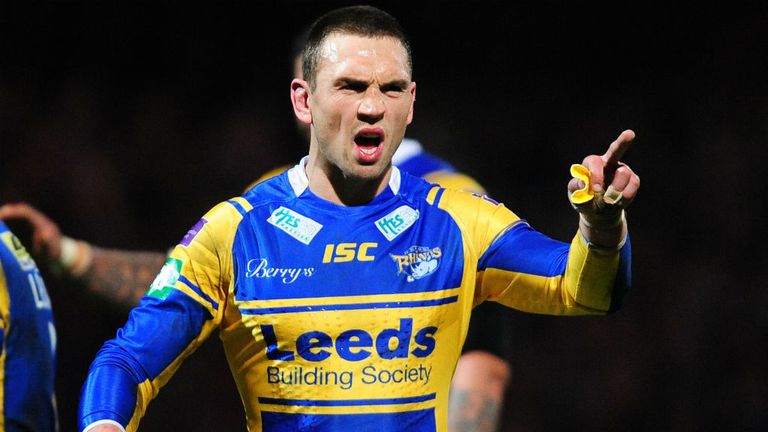 The England skipper is set to play his 500th career match at the Stoop on Thursday as the Rhinos travel to the Broncos and despite turning 33 next month, Sinfield has revealed that the thought of retiring has not even crossed his mind.
Sinfield made his debut for Leeds back in 1997 and has another year before his current contract expires. However, his understanding with Hetherington means that he does not foresee any problem when it comes to extending his stay.
The former Great Britain man, who has featured prominently at stand-off this season, also revealed that he sees his 36-year-old team-mate Jamie Peacock as a good example to follow.
Agreement
"I've got another year and then I've got an agreement with Gary where he has said 'as long as you're happy playing here there will always be a contract for you'," he told the Yorkshire Post.
"I won't make any decisions about it now. I think what JP has done is really smart. I have an idea in my head about how long I'd like to play but we'll see. I'd like to think I've got a good few years left."
The record points scorer in Super League history insists that he does not feel like he is coming towards the end of his career and that he was not even aware of the 500 game landmark he is approaching until very recently.
"I honestly don't feel that old at all," said Sinfield, who returned from a rare injury absence to play a crucial role in last Friday's win at Wakefield.
"I never realised this (500) was coming. I know I did 450 appearances for Leeds earlier this year but I suppose you just crack on. With being injured, your priority is being back fit but it's really nice and I'm really honoured.
"When you look back and think that 500 game-days mean there have been 500 days of my life where I've solely thought about rugby, then I am proud of it and there are not many players who get there."
Happy
In terms of being a one club man, Sinfield says that despite some very tempting offers, he never came close to leaving Headingly.
"I think happiness is a lot more important than chasing pound notes," he added.
"I've always been happy here. I've looked at things but have never had the desire to leave."