Leeds Rhinos star Carl Ablett reflects on "off-day" against Warrington
Carl Ablett is confident that Leeds will bounce back from their defeat to Warrington when they take on St Helens.
Last Updated: 17/09/13 9:24am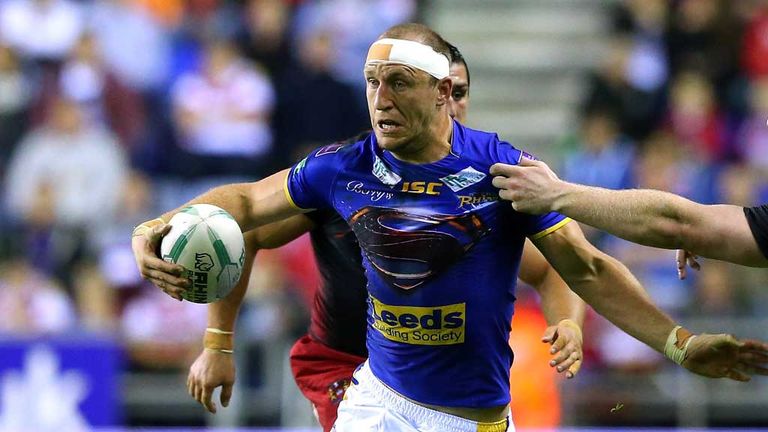 The Rhinos produced arguably their worst display of the season in Saturday's 40-20 defeat to the Wolves, and they now face a sudden-death play-off with the Saints for a place in the semi-finals of the Super League play-offs.
England international Ablett insists there is no panic in the Rhinos camp following the poor display, and he predicted that the defending champions will rediscover their form on Friday.
Leeds went into Saturday's fixture having lost just one of their previous nine games, and Ablett told the Yorkshire Evening Post: "It's not like we've had a build-up where we've been playing poorly.
"We've just had one of those days where we were off. We've done our review but we didn't need to ask massive questions of each other. There's a few things to fix but nothing drastic.
"The games leading up to it we were pretty good and it's not that we were miles away. It's nothing to do with our systems. We just got over-run and were nowhere near good enough.
Off day
"There was too many people not playing the way they can and we've no chance of winning if that happens. Warrington did play really well and had one of those days where everything seemed to come off for them.
"We were going toe-to-toe early on but then they started winning the rucks and were rolling down the field. We couldn't defend that and it was probably our worst defensive display of the year.
"That was the most disappointing thing as we'd defended so well this year. But it is easily rectifiable and we'll be ready for Saints.
"They've had a few wins and Nathan Brown's a quality coach. They've had some pretty bad injuries but Saints are almost fully fit now and on the back of a few victories will be dangerous.
"We need to concentrate on us, though, and make sure we're in the right frame of mind."