Super League: New Leeds Rhinos role for Barrie McDermott
Barrie McDermott has a new role at Leeds Rhinos that encompasses player welfare across the whole playing structure.
Last Updated: 14/04/14 2:57pm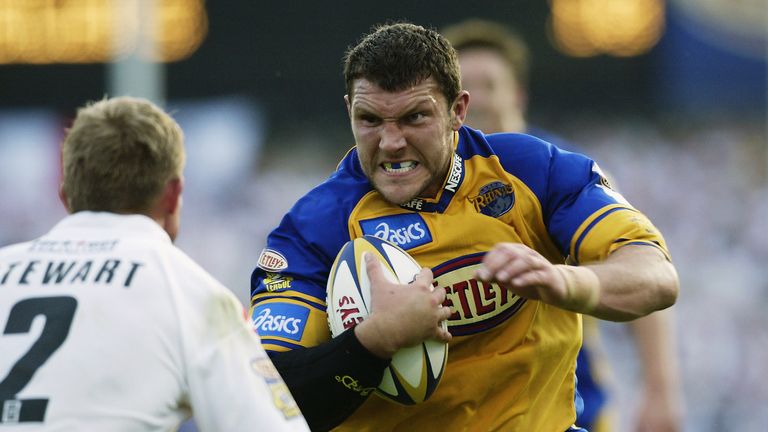 The former Wigan Warriors man and Great Britain international, who enjoyed a testimonial at Leeds in 2005, has been head of youth development since 2009.
Brad Singleton, Stevie Ward, Liam Sutcliffe, Elliot Minchella and Rob Mulhern have all broken in Leeds' first-team having worked with McDermott, who has overseen a successful period of youth productivity.
Player welfare is as important as ever right now following the tragic injury to Alex McKinnon and McDermott insists it is an area that remains close to his heart.
"I have had five fantastic years as head of youth development and worked with some fantastic coaches and players during that time," said McDermott.
"We had a big job on our hands initially to get things back to where we wanted them to be but through a lot of hard work and dedication from our development staff we have been able to do that.
"We devised a clear strategy that my staff put into action across the community to game that ensures each year we have good enough young players coming through. Many have gone to play for Leeds, other Super League clubs, in the Championship or at a high level of the community game.
"Last season we reached the Under 19 Grand Final, following on from the Under 20 Grand Final the previous year, but most importantly we have cascaded the first team culture right down throughout the club and seen players come right through the systems we put in place to play in the first team such as Brad Singleton, Stevie Ward, Liam Sutcliffe, Elliot Minchella and most recently Rob Mulhern to name but a few.
Solid foundations
"The quality of those lads, both as players and people, is something I am very proud of and I am sure they will go on to have long and successful careers on the basis of the lessons they were taught during their time in the Rhinos academy.
"I have always been proud of the players whose life is enhanced by spending time at the Rhinos, young men who find a direction in life and gain the skill and confidence to fulfil their potential in whatever field.
"However, having spoken with the club, I am keen to look at a new opportunity within the Rhinos, that of player welfare. In recent years this has become a major focus within the game and rightfully so.
"As clubs, we have a duty of care for our players and as a game we must do as much as we can to help them in life not just the eighty minutes when they are on the field at the weekend.
"When you are working with young lads to get them through college or helping them gain work experience so they can build a career post rugby it enforces the sacrifices our players make to try and be the lucky ones who become full time Super League players.
"Hopefully, I can transfer those skills to my new role and work with the first team players as well to develop their skills by accessing the various options that are available to them, especially those who are coming towards the end of their playing careers."
Player performance manager Simon Bell will now have an expanded role within the youth development programme and he will report to head coach Brian McDermott.