Super League: Kylie Leuluai commits to Leeds Rhinos after delaying retirement
Last Updated: 31/07/14 8:31am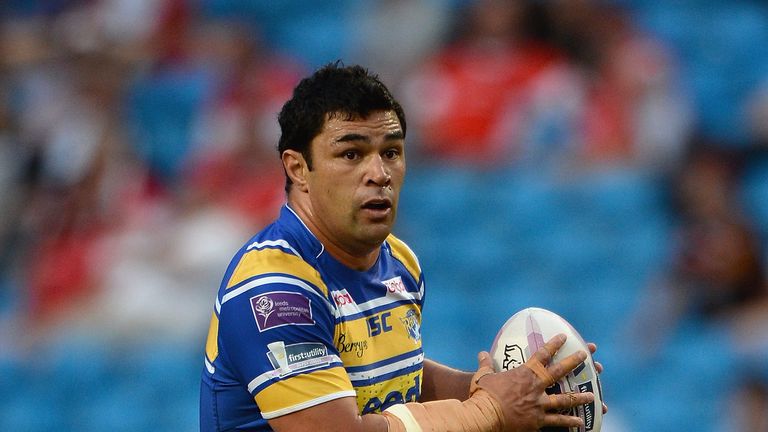 Leeds' veteran prop Kylie Leuluai will play on in 2015 after once more shelving plans to retire.
The 36-year-old New Zealander, who signed a rolling contract in May 2013, has been in impressive form this season, his eighth for the Rhinos since joining from Manly Sea Eagles.
Leuluai, who turns 37 next March, has made more metres per carry than any of his forward team-mates with an average gain of 8.12m - and is one of only five front-rowers in Super League who have made more than eight metres per carry this season.
I am enjoying playing the game and I am not ready to finish yet.
Kylie Leuluai
Leeds coach Brian McDermott said: "It is great that Kylie is with us for next season. We have spoken about the transition process that this group of players will be going through during the next few years and the standards that Kylie sets are something that all young players can aim for.
"His workload and commitment is something that is thoroughly appreciated by his team-mates and the coaching staff and he continues to be a valuable part of our team."
Important
Leuluai's decision to carry on means Leeds' starting props in 2015 could have a combined age of almost 74, with Jamie Peacock also playing on beyond his 37th birthday for a 17th consecutive Super League season.
Leuluai is set to draw level with the legendary Arthur Clues in the club's all-time list of overseas players in Friday night's derby against Bradford at Headingley.
Clues made 236 appearances for Leeds from 1947-54, with only Australians Frank O'Rourke, Dinny Campbell and Eric Harris above him on the list.
"I am enjoying playing the game and I am not ready to finish yet," Leuluai said. "I enjoy being with the boys and being associated with the club and that was important for me.
"However the decision was always going to be performance-related, especially in my position and what I can do for the team.
"There are certain levels and requirements that are required of you in any team but especially with this group of players and, like any job, you have to be able to meet those requirements."