Night riders
Martin Offiah gives Sky Sports News his take on Wigan, Hull KR and when Leeds are at their best...
Last Updated: 05/09/12 9:00am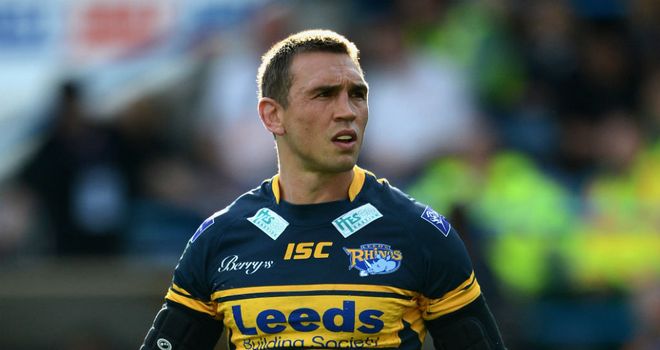 Every Sunday night on Sky Sports News, former Wigan and Widnes star Martin Offiah gives his take on the big games and big stories from the Super League weekend.
This week, Martin delivered his thoughts on Wigan's stunning comeback against Hull KR, when Leeds are their best and which side he thinks will snare the final play-off spot...
Wigan's triumph over Hull KR...
"This was the mother of all comebacks and the biggest one in Super League to date. Hull scored 26 unanswered points, but Wigan, as all champion sides do, came back and they now have an unassailable lead at the top of the Super League. However, we saw Warrington top the table last year and win about abut 13 games by 40 points or so and yet they didn't make it to the Grand Final so Wigan coach Shaun Wane knows what he has to do. He has been a very astute hire for Wigan and knows that if his side go 26 points down against Warrington or Leeds they won't come back."
Click here for the Hull KR-Wigan match report
When Leeds are at their most dangerous...
"Leeds are like vampires in that they like to play at night and not during the day with the sun on their backs. They have lost the last three Challenge Cup Finals but in the night-time Super League Grand Finals they have won five of the last six they have contested. At Headingley on Friday night, they put 46 points past an inconsistent Salford and everyone knows they peak for the night matches. They cannot be overlooked in the play-offs."
Click here for the Leeds-Salford match report
Whether Warrington can win the Challenge Cup-Super League double...
"This must be like déjà vu for Warrington; three times in the last four years they have been Challenge Cup holders and gone into the business end of the season looking to be successful. This time around I think they have a stronger squad, while coach Tony Smith has not played his top 17 players for that many games. I don't think Smith was enamoured by the skill factor of the game against Huddersfield but I'm sure he was enamoured by the mental toughness they showed to win the match."
Click here for the Warrington-Huddersfield match report
Wakefield's play-off push...
"Richard Agar's men have been playing with this underdog tag but now there is pressure on them and people are expecting them to win. They were apprehensive and error-ridden in the first half of their weekend game and were cut apart by Widnes' Rhys Hanbury, but in the second half things started to go their way, they started to hold on to the ball and found a way to win the game; they didn't pass the test with flying colours but they passed it. There will be pressure on them in next week's final round of fixtures but they have the easier game (against Salford) and are favourites for the final play-off spot."
Click here for the Wakefield-Widnes match report
Bradford's diminishing hopes of a top-eight finish...
"The Bulls have been riding the crest of an unsecure wave since they went into administration but people are probably thinking that now things look a bit more secure they might have taken their eye off the ball and that is why they lost so heavily to Hull. However, Hull were playing play-off calibre football; they ran hard, hit hard and distributed the ball very well. Bradford now have to beat Catalans in France to make the play-offs and that is no easy task, but the good news for them is that, while nothing is set in stone, they look like they will be in Super League next season (after the proposed takeover from Omar Khan and Gerry Sutcliffe)."
Click here for the Bradford-Hull FC match report
Why Hull KR slipped out of the play-off reckoning...
"Hull KR had a really strong patch and were at one stage favourites for the final play-off spot but their recent form has not been that good. They have had some mitigating circumstances: they have been without certain players, while coach Craig Sandercock is changing personnel meaning there will be some fresh talent there next season from both Australia and the UK. Hull KR will be much stronger in 2013."