London Broncos coach Tony Rea laments lack of experience in ranks
London Broncos coach Tony Rea felt his side's lack of experience was exposed as they were beaten 54-20 by Warrington.
Last Updated: 02/04/13 4:03pm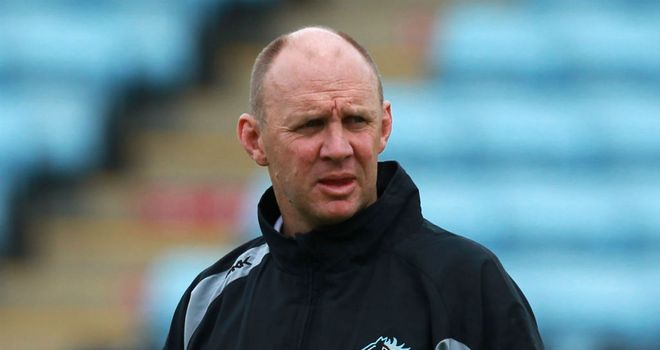 Rea put out a much-changed side from Thursday's visit of Catalan Dragons as he looked to alter his jaded side for the trip to the Halliwell Jones Stadium during the busy Easter period.
But the Broncos came away with nothing, although Rea was encouraged by the hat-trick scored by winger Kieran Dixon, who he described as "wonderfully talented".
"We've been talking down there about how disappointed we are with the massive momentum loss," said Rea.
"Halfway through the second half it was good for us, but they (Warrington) had the experience and the knowhow, and that bit of speed at the ruck as well to create some momentum.
"We came up with a couple of poor defensive plays that hurt us."
Rea would prefer to see one round of fixtures spread out over Easter, rather than attempting to squeeze in two matches.
"The theory is everyone gets a home game, but the second one has just traditionally not been a quality game, not because we're resting players but you just get two tired teams," he added.
"I'd like to see us play a game Thursday, a game Friday, a game Saturday, a game Sunday and a game on Monday.
"Just spread it out over the week and let us all enjoy a good Easter with some quality games."
Rea was pleased with the performance of Super League debutants James Woodburn-Hall and Erjon Dollapi however, with the latter running in the final try of the game.
"I thought they were outstanding," he said of the two new faces. "I thought they contributed really well in that environment, with limited preparation."
Warrington assistant coach Willie Poching admitted London were well in the contest during the opening period.
"It was an even contest up until half-time. They made us work hard in that first half for everything we got," he said.
"We had to keep going with what we had in mind to do. We were quietly confident that the plan was going to work out and it ended up being that way."
Poching was also keen to praise Warrington's substitutes, who played a key role either side of the break.
"I thought everybody stuck their hand up and there were some people who came off the bench, in particular, who were very good for us," he added.
"Ben Currie and Michael Cooper were especially good. I thought they sparked us and gave us a real energy, and showed the way for some of the others."