Challenge Cup: Jamie Soward urges big effort from London Broncos in semi-final clash
Jamie Soward has demanded his London Broncos team seize their moment in the Challenge Cup semi-final against Wigan.
Last Updated: 22/07/13 6:35pm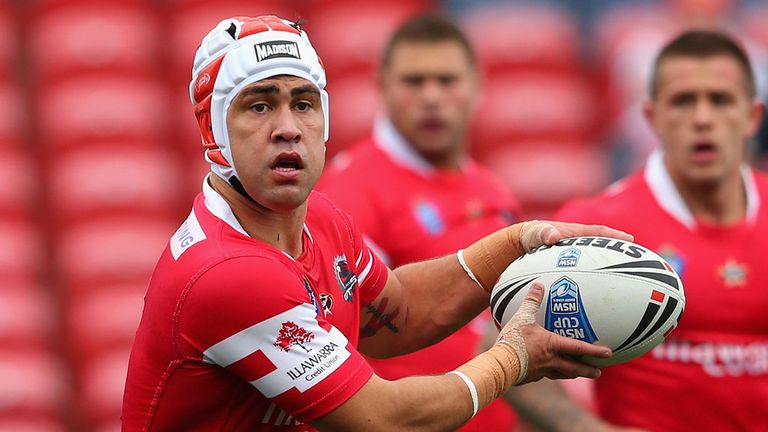 The Broncos will be huge underdogs in Leigh on Saturday knowing that victory against the Warriors would complete one of the competition's greatest upsets.
They were last in the final 14 years ago when they were crushed 52-16 by Leeds at Wembley and Australian short-term signing Soward is determined the current squad go one better.
"It's about building your own legacy," Soward said. "The year 1999 was a great time for the club, very historic and everyone talks about it, but this group of players have to take their chance.
"We can respect 1999, but this is our time and we want people to talk about us in 10 or 20 years time. I'm expecting Wigan at their best, that's why they're near the top of the table. They have world class players everywhere.
"This is the most important game that I've played in. It's a one-off and you have to enjoy the week with your team-mates. This is the start of an exciting week."
Broncos coach Tony Rea was chief executive in 1999 and is determined to upset the odds, considering his team are three points adrift the bottom of the Super League table while their opponents are impressing in second.
Preparation
"The preparation has just begun. We've spoken about how we want to approach the week. This type of game feels different straight off its own bat, so you try to normalise that," Rea said.
"It was a great experience in 1999, but it was a long time ago so trying to remember it is pretty hard. The fact people are still talking about it says to the players that that's the legacy you'll leave, that's the opportunity you have.
"It would be nice if we're talking about this year as much as that one, but we are a long way from there because we have a very hard game in front of us on Saturday.
"The bookies and form guide have Wigan as favourites. In life you'd like to be the favourites with great form behind you, happy and playing well. We deserve to be where we are in Super League because of our actions."
The fitness of Soward, Tony Clubb, Michael Witt, Matt Cook, Dan Sarginson and Michael Robertson will be assessed on Tuesday after Rea revealed all six players are 50-50 to make the match.
"We need some blokes to pass fitness tests tomorrow before we can think about picking our team," he added.
Rea refused to discuss Clubb's contract situation after the England international requested an early release from his contract as he is "sick of losing".
"That's got nothing to do with this week. He's part of the squad for Saturday and has got his head on," Rea said.