Featherstone Rovers 'ready' for Super League if London Broncos fold
Featherstone Rovers say they are ready and willing to play in Super League next season if London Broncos drop out.
Last Updated: 03/12/13 12:48pm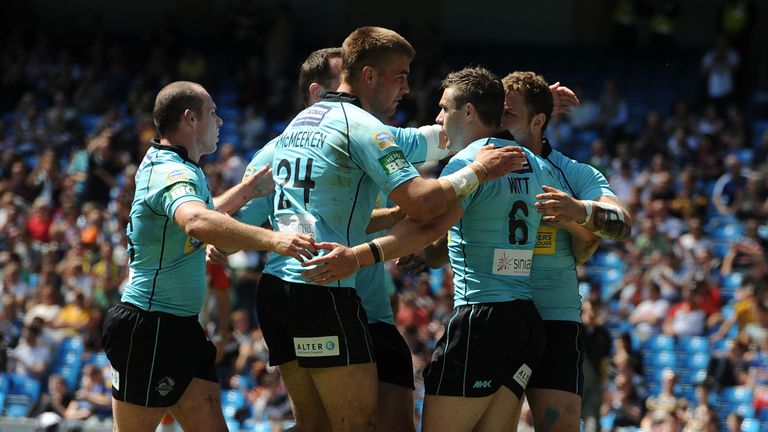 Speculation is mounting that the Broncos may not enter Super League next season.
Their lease on the Twickenham Stoop runs out this year and they played their last home game on Saturday without making any reference to where they would be playing next season.
No new signings have been made, despite the fact that at least eight players will be leaving the club, which is bottom of the table.
They have not won a league game since April, were hammered 70-0 by Wigan in the Challenge Cup semi-final last month and have seen crowds drop to an average of just 2,213 this season.
Two clubs will be relegated at the end of next season to make it a 12-team Super League, and the Broncos' long-term backer David Hughes is reportedly considering his options.
Concerns
The club is yet to make a comment about its future but the Rugby Football League admit they have concerns.
"The RFL have some concerns and have been speaking to London Broncos over the last seven days," a league spokesman said.
The RFL's back-up plan - if the Broncos fold - would be a 13-team Super League next year but Featherstone say they are in a position to take the 14th place.
Rovers' majority shareholder Feisal Nahaboo said: "Whilst not ideal, we can be ready to mix with the greats of rugby league.
"We certainly deserve it. We've won the league three years on a trot and this year's shield is in our hands. Statistics don't lie and it would be farcical if space became available and we weren't offered entry.
"The sport is starved of funds and we've made it clear we have the funds available to build Featherstone Rovers into a rugby league powerhouse and we should be encouraged, not discouraged.
"We own our ground, we have a strong board with at least two key shareholders generating seven-figure profits from businesses they run successfully and own.
"It all bodes well for Featherstone Rovers to show that entrepreneurs can enter the sport of rugby league and commercialise the game and attract investment.
"Roman Abramovich started this in football and now the money in football has gone crazy.
"Rugby league is ready for entrepreneurs. We've seen Dr Marwan Koukash take on Salford City Reds and I'm sure he will show his value to the sport next year.
"I'm no different. Give the club a chance and we strengthen Super League."