Super League: Wigan's Tony Clubb pleased London Broncos retained place
Ex-London captain Tony Clubb has expressed his delight that the capital club have retained their Super League spot.
By James Pearson (@SkySportsPeo)
Last Updated: 23/01/14 3:16pm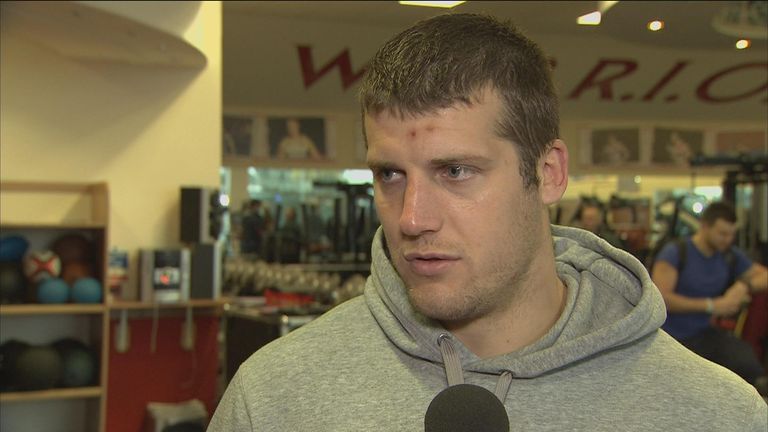 London's top-flight status was in major doubt after entering administration before striking a deal with Barnet FC to play at The Hive for the next two seasons.
Clubb quit the Broncos for the Wigan during the close-season and despite the club holding a special place in his heart he hopes they do not pick up points against the Warriors.
The 26-year-old is one of a number of players to have emerged from the Broncos' fruitful production line and he believes for that reason they are a plus in Super League.
"I'm glad they stayed in Super League. I wanted them to be in Super League," he told Sky Sports. "I know it finished a bit sour with us all, but that's just how it is. I hope they do well.
Hopeful
"I've still got a few good friends down there and I hope they play well, but not against us. It'll be good for them. I can't wait to play them really.
"The people who have come through at London have gone on to do good things, like Louie (McCarthy-Scarsbrook) over at St Helens. He's going really well. They do produce them. You'll probably see a few more this year, there are some good kids coming through.
"A lot of the years I was there they brought in 30-year-old plus players that only had a few years left, but now they are bringing in some young kids that have gone well in Super League. I hope they go well, but just not against us."
Clubb is used to battling for survival with the Broncos and he admits the environment of expectations and being under pressure to perform at Wigan is one he is relishing.
"They (Wigan) have been really good to me, to me and my family. It's absolutely fantastic being here. As you can tell from the set up and things you have here are first class so it's been a good move, a move that I was looking forward to," he continued.
Intensity
"That intensity of winning week-in, week-out and the pressure from fans and coaches and us as players it's fantastic. It makes you want to go on and win. That's why Wigan do win and that's why I've come here. I've never won a trophy. So to come here and potentially win three would be fantastic."
Wigan open their Super League campaign against Huddersfield Giants before taking on the New Zealand Warriors in a friendly ahead of their World Cup Challenge verses NRL premiers Sydney Roosters.
Clubb cannot wait to tackle the world's best, adding: "It's fantastic to go over there and do a job over there. It's going to be a good game.
"They've got a very, very good team. Wigan are not a bad team so we'll go over there and do a job and hopefully get a win.
As long as we go out there and win that's all that matters to me. If we win by 50 points or whatever as long as we win that's all I care about. Winning for Wigan and getting another trophy for them is massive for this club. That's all I care about."