Magic Weekend: London Broncos coach Joe Grima upbeat on survival chances
New London Broncos coach Joe Grima remains hopeful of beating the drop ahead of the Magic Weekend in Manchester.
Last Updated: 14/05/14 1:20pm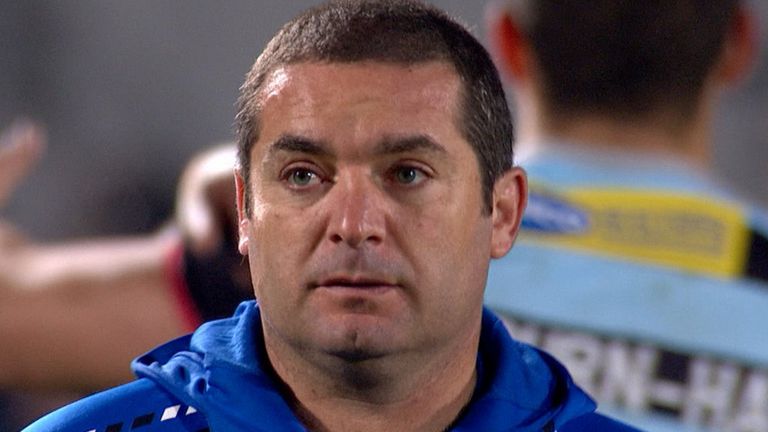 The Londoners have never been out of the top flight since the switch to summer in 1996 but are bottom of the table after losing all 12 matches so far.
However, Grima, whose side went down 30-16 at home to Huddersfield in his first game, has spotted signs of a recovery and believes Saturday's opponents in the first match of the Magic Weekend at the Etihad Stadium will show them the way forward.
Catalan Dragons lost their first five matches before going on to win five of their next six to pull well clear of the relegation zone.
"No-one likes the 'R' word but it is what it is and we are where we are," said the former Parramatta player.
"We're not giving up at any stage, however. We've still got more than 50 per cent of the games left and if we win one, who knows, we may win two or three and I really believe we can do what the Catalans have done.
"I really think that anyone who is not in the top eight has an issue of being one of the two teams that are relegated.
"Last weekend's performance showed things are turning and they have been turning for three or four weeks. We're actually making inroads and a lot of progress at training and it's transforming to the footie field.
"We're looking forward to Saturday. We've got 11 guys in the 17 that have never participated in a Magic Weekend and the excitement is evident at training."
Grima, promoted to head coach just 10 weeks after arriving in England to become Tony Rea's assistant, acknowledges he has been thrown in at the deep end for his first senior coaching role but insists he came to Super League with his eyes wide open.
Rea had to virtually rebuild the squad after the club almost went out of business following their departure from the Twickenham Stoop at the end of last season.
The former player, chief executive and head coach says the club "died five
times" before being given the kiss of life through a move to Barnet but he was left with just eight players following the break-up of the 2013 squad and most of those were youngsters.
Rea eventually assembled a 25-strong squad he believed would be competitive at some stage during the season and identified Grima as the man to finish the job in 2015.
Grima, who sacrificed the year left on his contract with St George Illawarra Dragons to get involved in Super League, found himself fast-tracked into the hot seat when London owner David Hughes ran out of patience earlier this month and he is determined to make the most of his opportunity.
"Tony and I spoke about the opportunity that lay ahead and he made it quite clear the size of the challenge," added Grima. "Having eight people travel over an off season, that's enough said.
"I was always coming into the job knowing it was a tough gig and it has been just that. As far a plan B, we' re certainly starting our recruitment. We've identified who we want at our club that we currently have. But we're thinking best-case scenario that we will still be in Super League."
Preparation
Grima has not needed to do much preparatory work on Saturday's opponents, having played the Dragons twice already this year, but he has identified former Great Britain stand-off Leon Pryce as the dangerman.
"Leon Pryce has turned the clock back five years," Grima said. "He's been playing outstandingly well."
The Broncos lost at home to the Frenchmen in the league at Easter and suffered a Challenge Cup loss in Perpignan. They also went down in a pre-season friendly in the south of France.
You can watch all seven of Super League's Magic Weekend's games from Saturday on Sky Sports 3HD