Bulls enter administration
Bradford have gone into administration after failing to find new investment and now have just 10 days to avoid being liquidated.
Last Updated: 19/07/12 4:33pm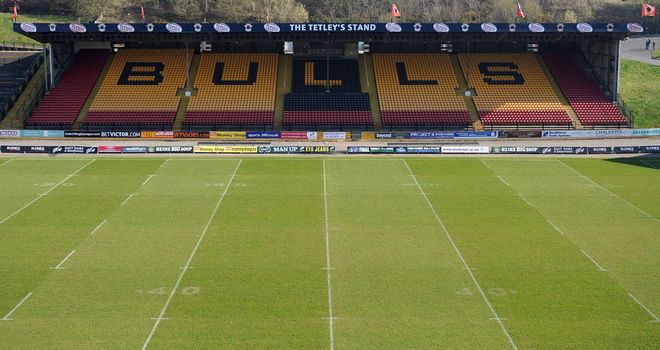 Bradford have just 10 working days to avoid being liquidated after entering administration.
Directors of the Bulls filed a notice of intention to enter administration on June 13 in order to buy them extra time, with HM Revenue & Customs threatening a winding up order over unpaid tax, but the moratorium expired by June 26.
With the Stobart Super League club failing to find new investment, Brendan Guilfoyle and Chris White, from insolvency firm The P&A Partnership, have now been appointed joint administrators.
It is understood Bradford currently owes £98,000 in PAYE tax from May and the same amount for June, plus an outstanding VAT bill of £250,000 from the sale of their Odsal Stadium lease to the Rugby Football League.
No funds
"The directors made every effort to try to save the club within the 14-day timescale issued by the courts but the moratorium ended yesterday without any potential buyer coming forward," Guilfoyle said.
"We now have just 10 working days to save the club from liquidation because there are no funds to carry on longer.
"If there is anyone interested in buying the Bulls then we need to hear from them right now because this is famous club is now on the brink of extinction."
Guilfoyle said he may have to listen to offers for players to bring in short-term cash.
"It's a crisis situation, and selling players and redundancies cannot be ruled out," he added.
"The situation is really quite grim in the sense that the directors have failed too get the investment they needed to keep the club going.
"I'm unfunded. I don't have very much money. I certainly don't have anywhere near enough to pay the wages for July.
"I suppose I'm lucky in that the June wages are paid but I need someone to come in and fund this club quickly.
"What we are hoping is that the administration will be seen as a positive development by someone who wants to buy the club."
Bradford are the third Super League club to enter administration in the last two years. Wrexham-based Crusaders suffered the same fate in 2010 and were liquidated at the end of the following season.
Wakefield also spent a week in the hands of an administrator before the start of the 2011 campaign and saw three players sold to pay off debts in that time - something that could now happen to the Bulls.
They are also certain to be hit with a four-point penalty for breaching the RFL's rules on insolvency; Mick Potter's side currently sit ninth in the table and are only outside the play-off positions on points difference.